MONG the more experimental end of the menswear displayed at the V&A's Fashioning Masculinities exhibition, I was delighted to spot a look from the autumn/winter 2013 JW Anderson show. Not every man can carry off a matt black kangaroo pouch boob tube, thigh-skimming shorts and knee-high boots with frill edging. That some can, and did, brings me untold joy.
That collection turned Jonathan Anderson from another young London design hopeful into a star overnight. An aesthetic wheel began turning, moving the dial on what we think men can and can't do with our bodies. The repercussions of men's fashion have unlikely consequences. While Fashioning Masculinities opens a door on the liberating power of what men are wearing, what we're not wearing is a whole other story.
Sometime in the last decade, my socials began flooding with ordinary male flesh. This curious new manoeuvre for shedding clothes online started with friend suggestions on Facebook, all of whom seemed to have been schooled in the emerging art of the topless bathroom mirror selfie. The poses were flexed, toned and serious. Their pouts were perfected. Familiar faces appeared among them. Men I would've once mumbled a coy hello to at a gym, now baring acres of their naked selves for public consumption. I thought mistakenly this was simply the gay algorithm at work. But, no.
Middle-aged colleagues started unveiling their inner, hitherto undeclared thirst trap selves. Before and after shots from three months' personal training sessions at Roar became de rigueur. Late last year, Louis Theroux became the unlikely poster boy for the new everyman gym selfie, when he too went uncharacteristically topless for likes.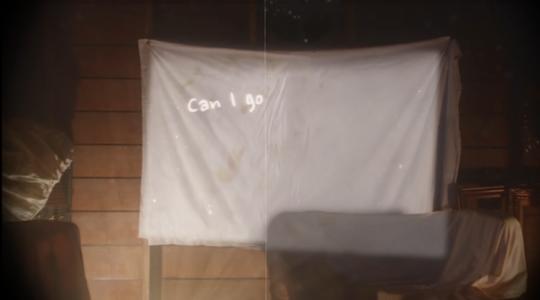 My socials feeds are now a catalogue of what would once have been the risky preserve of the page seven fella. Every other follower I'm encouraged to engage with is a random gym bro with tidy facial hair and 70,000 followers who communicates entirely through his abs. Not that the unfashioning of masculinity is reserved for the honed, either. Beaming Brazilians. Recently divorced five-a-side dads. Self-conscious gays magically locating the exact measurements of their esteem. All unclothed.
Public male nudity used to be the preserve of athletes, naturists and hen do strippers. Now it's my friendly neighbourhood dentist, documenting leg day at Fitness First in eye-popping detail at five-minute intervals across his Instagram stories.
Six artists who have challenged masculinity - In pictures
Look, I'm learning to cope. Just because I'm not quite brave enough to join the groundswell of the merrily unclothed doesn't mean I don't fully endorse others choosing to show how comfortable they are now with their bodies. Good for them. In some esoteric way, it reminds me of looking at an outfit I'd never dream of wearing turning up on a runway. Fashioning and unfashioning masculinities are flipsides of the same coin. There's a lesson in learning to be unembarrassed in yourself, about shedding your inner prude, written boldly through both.
With every new musical I watch, I try against increasingly stacked odds to convince myself that whatever it is that makes me wince when I see actors breaking into song on stage will stop. Andrew Garfield? Love him! So I give Tick, Tick... Boom! a go and… back to square one. I am jazz hands allergic. I will never understand musicals.
It was only during the second episode of Nicôle Lecky's brilliant BBC3 black comedy, Mood, that I actually realised I was watching one. Lecky, left, is a genius, documenting the dodgy mess we get into when we start gauging the popularity of the self we edit online against the self that catches us in the mirror.
She's broken my no-musicals mantra by writing songs that sound like the Radio 1Xtra playlist, not those awful, bouncy, mawkish clipped narrative numbers. Nicole Lecky is this week's cultural heroine. Respect.