Photo: homedepot.com
Planning on painting a room or sprucing up a piece of furniture? In addition to picking a color, base (water or oil), and formula (interior or exterior), you'll also choose a paint finish—a gloss or sheen that's a measure of the paint's reflectivity when dry. Paints are available in flat, eggshell, satin, semi-gloss, and high-gloss, in order of lowest to highest reflectivity.
Eggshell and satin are popular for interiors because they're neither too matte nor too glossy—just shiny enough to make a paint project pop. Both can be used on a range of surfaces, but they have different properties that make them better suited for certain applications. Ahead, we break down the differences between the two finishes—eggshell vs. satin—and share which works best where so you can find the perfect finish for your next project.
Need help with your painting project?Talk to expert professionals and get free project estimates from top painting contractors near you. Get Estimates+
Photo: istockphoto.com
Satin is glossier, adding more depth to small spaces.
Satin reflects slightly more light than eggshell and has a soft shimmer similar to that of velvet. In contrast, eggshell reflects almost no light so has a negligible luster comparable to the faint glow of an eggshell. The more pronounced shine of satin sharpens the contours of walls to add depth to small spaces like a hallway or study, making them look a bit bigger. Eggshell looks more one-dimensional, so it won't do much to open up a cramped space.
RELATED: 21 Clever Tricks to Make Your Home Look Bigger and Brighter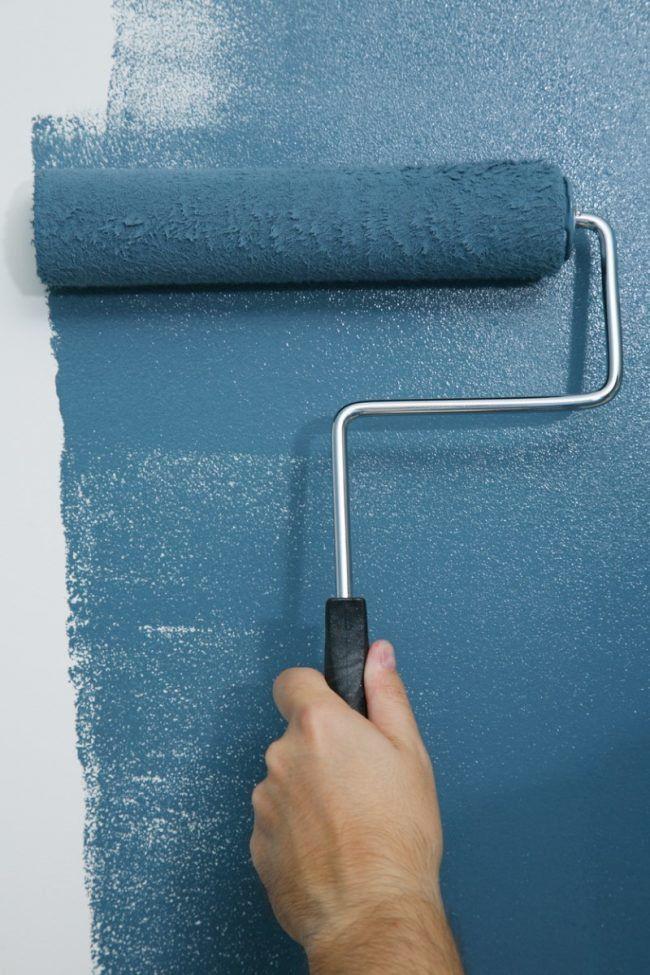 Satin is more durable—an advantage in high-traffic spaces.
In general, higher sheen paints are formulated with less pigment and more binders—resins that make paint more flexible, tough, and hard-wearing. This is why satin paint is more resistant to dents, divots, scuffs, scratches, and stains, and more durable on the whole. Eggshell paint is more likely to become damaged by these impacts and abrasions because it has fewer binders and more pigment.
The durability of satin makes it a better pick for high-traffic surfaces that get banged up on a daily basis—think walls in entryways, children's bedrooms, or family rooms, and everyday furniture like kitchen chairs and end tables.
Satin is easier to clean—a plus in dirt- and moisture-prone spaces.
The glossier satin sheen translates to a slicker surface that's slightly quicker and easier to wipe clean of dust, dirt, mildew, and mold. Eggshell requires more elbow grease to get clean because it has more pigments, and the coarse pigment particles make for a rougher surface. This makes satin a better pick in dirt-prone and moisture-rich spaces like children's bedrooms, playrooms, and bathrooms, where walls can over time collect muddy handprints, food or paint smudges, mildew, or mold.
Advertisement
Photo: istockphoto.com
Eggshell conceals surface flaws well.
Although satin can fend off scratches, dents, and scuffs better than eggshell, if your painting surface already has these marks, eggshell will conceal them better, That's because the lower reflectivity dulls the appearance of damages, making the surface look even and flawless. Satin is a poor choice on blemished surfaces because it reflects more light, making the slightest imperfections look more glaring. If you want seamless satin results on a dinged surface, be sure to sand them away before painting.
Eggshell is cheaper.
Paint usually costs $1 to $2 dollars more per gallon for each step up you go in sheen. This makes satin, while a middle-of-the-road price option on the overall sheen spectrum, pricier than eggshell. For example, a gallon of Behr Premium Plus, one of the best interior paints, will run you $27.98 for the eggshell sheen (The Home Depot) and $30.98 for the satin sheen (The Home Depot).
Photo: istockphoto.com
Eggshell better minimizes application mistakes.
Whether your brush slipped or you let one section of the wall dry too long before painting an adjacent one with a roller, you can usually spot mistakes on a satin-finished surface because more light bounces off, accentuating stray roller lap marks and errant brush strokes. Any paint touch-ups you make after the original application will be just as hard to hide. In contrast, the low reflectivity of eggshell minimizes application goofs and touch-up marks.
RELATED: 12 Easy Fixes for a Botched Paint Job
This makes eggshell a better-looking and less costly option for surfaces that demand an impeccably polished look, including guest bedrooms, formal dining rooms, and living rooms. The lower durability and higher difficulty of cleaning the eggshell sheen aren't considered drawbacks in these low-traffic, gently used spaces.