Andrew KoopmanFacebook Twitter EmailComments
We all love our kitchens. That's why alongside the bathroom, it's the most influential room in a house in terms of its value. A place where the family can come together to create amazing meals and memories together. But to do so, the kitchen needs to be fully stocked as much as possible at all times.
Tramontina Primaware 18 Piece Non-stick Cookware Set, Steel GrayTramontinawalmart.com$39.97Shop Now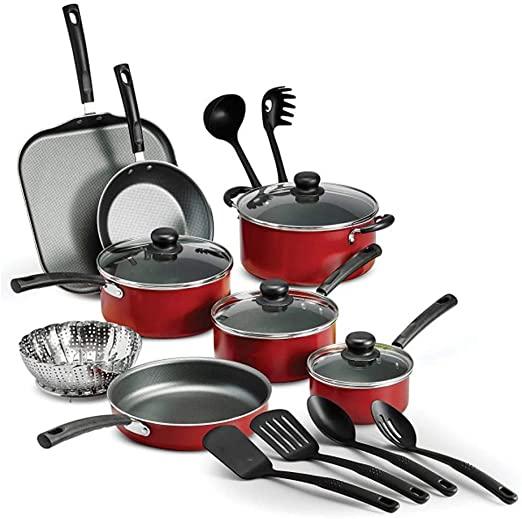 This can get expensive fast, but with this deal that Walmart has on an 18-piece cookware set, it just got a heck of a lot easier and more affordable. This cookware set includes just about everything you need to get started cooking right away. For less than $40, you'll get:
I know what you're thinking, that's only 14 bullet points. But the four lids are counted as separate items, so that's where the 18-piece set comes in. As a bonus, the lid for the Dutch oven also perfectly fits the 9" deep saute pan, so it's almost like a 19-piece kit!
These pans use a non-stick cooking service to make cooking and cleanup a breeze. The handles use stay-cool technology so that they're always cool to the touch and you don't have to worry about burns. The lids are all made of tempered glass that's both heat-resistant and shatter-resistant. To top it all off, this cookware set is entirely dishwasher safe and all of the pots and pans are compatible with any cooktop surface no matter if it's gas, electric, or ceramic.
For the price, you won't find a better, more complete cookware set anywhere else. So head to Walmart's site to place your order today.