Not all section championships are created equal. Owatonna won the Section 1-4A title in 2021 at a high school gym and advanced to a state tournament game in a high school gym. Each played in front of a handful of fans.
Friday night the Huskies won their second straight section crown and eighth overall 69-61 over Farmington at a packed Rochester Mayo Civic Center Arena. The victory gives them a date at Target Center on Tuesday, March 22. Players and coaches couldn't be more thrilled.
"Last year we went to state with about 50 fans in the stands. So to be in the Civic Center with a completely packed house and to get our medal ceremony. It felt great."-Ty Creger
Against top seed Farmington, the first-half score was tied eight times. The last of those was 26-26. OHS closed the half on a 9-3 run for a 35-29 halftime advantage.
Farmington pulled within three early in the second half but the Huskies hit some big shots. Brayden, who celebrated his 18th birthday as part of the night, his first three to give the Huskies a 49-41 lead with about 10-and-a-half minutes to go.
Blake Burmeister drilled a three a bit later for a 56-49 lead. The junior scored 12 points, including a pair of triples and two-for-two at the free-throw line.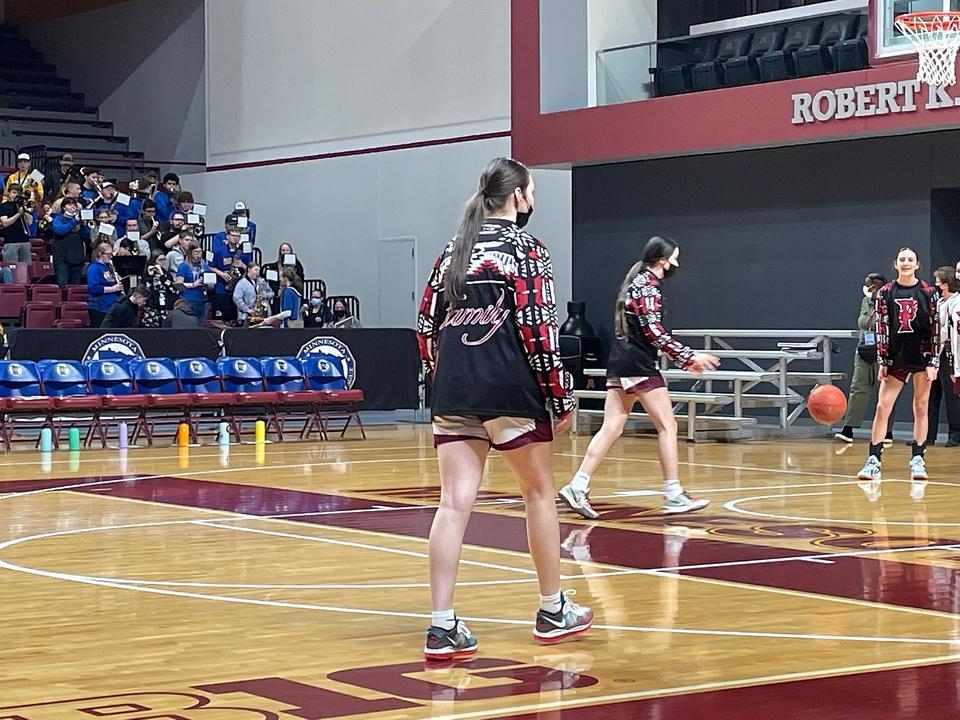 Williams hit another deep three immediately afterward for a 59-49 lead with 4:35 to go, Owatonna's first double-digit lead of the game. He scored 22, including eight-for-eight from the charity line.
"We were really motivated the whole week in practice. Definitely being seeded second was a little bit more motivation...Our main goal was to get to the Target Center."-Brayden Williams
OHS went 11-for-15 from the free-throw line in the second half. Ty Creger led the champs with 23 points
Evan Dushek was limited to seven points as he battled foul trouble, picking up his fifth with 4:20 to go in the game. Three Tigers fouled out of the game.
"It feels awesome. We worked hard all season. A lot of tough games. Lots of ups and downs, especially our two losses, very close losses. But I feel we need those losses, really helped us lock in for this game."-Blake Burmeister
Seedings and match-ups for the state quarterfinals will be announced Saturday. Qualifiers include Owatonna (Section 1), Ede Prairie (Section 2), Eastview (Section 3), Cretin-Derham Hall (Section 4), Park Center (Section 5), Wayzata (Section 6), Andover (Section 7) and Moorhead (Section 8).
The tournament begins Tuesday, March 22 at Target Center.
"The fruits of the labors of our kids. The time that's put in by them, by our coaching staff. To beat three really, really, really good teams in different ways to be here. It's great for the kids. Great for our school. Great for our community of Owatonna. We got three more to go though."-Coach Josh Williams
These Are The Best 6 Restaurants in Faribault (According To Yelp Anyways...)
Beware...This list may make you hungry.
10 Least Expensive Places to Live in Minnesota in 2021