Homethings – the innovative start-up creating the next generation of eco-cleaning products after winning investment in last year's series of Dragon's Den – has landed its first major UK retail listing with Waitrose.The products will be available in up to 232 of its stores nationwide from March 18th2022.
Waitrose will list nine of its innovative, 'Just Add Tap'™, plastic-free cleaning products, including both starter and refill packs for:Allthings – an All Purpose Surface Care Spray – STARTER PACK RRP £4 AND REFILL RRP £6Baththings – a Bathroom Surface Care Spray – STARTER PACK RRP £4 AND REFILL RRP £6Shinythings – a Glass, Mirror + Stainless Steel Surface Care Spray – STARTER PACK RRP £4 AND REFILL RRP £6Dishthings – a box of 40 Eco Dishwasher Tablets – RRP £9.50Waitrose will also have the exclusive launch of a brand new environmentally-friendly washing up liquid product, which has been formulated in collaboration with Innovate UK, and will be unveiled in full later this month.
Founded by University friends Matt and Tim, the pair had a simple mission with a worldwide ambition; to create powerful, planet-positive products that keep homes and the environment clean. The Homethings journey began with a simple insight, that up to 95% of most cleaning products and sprays is water, with the active ingredient only accounting for between five and 10 percent of what's sold.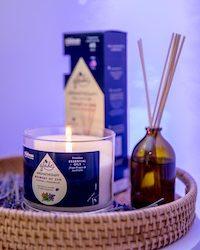 The pair noted that even eco-friendly brands such as Ecover were still selling water-based products in single-use plastic bottles, which seemed at odds with the environmental battle facing the modern world. Their solution was simple – to create, market and sell the active ingredient only, allowing customers to simply add water at home.
Just one year on, the Homethings range now comprises seven eco-friendly everyday household cleaning products, including laundry pods, floor pods and compostable sponges, all designed to reduce water waste and single-use plastic. All products are vegan and cruelty free certified, made using only natural ingredients that are both sourced and manufactured in the UK and Europe.
Tim Keaveney, co-founder of Homethings, comments: "This listing is testament to Waitrose's ambition to give their customers access to game changing sustainable innovations. Just Add Tap refills are the future of the Home Care category and we're delighted to be blazing a trail with Waitrose to demonstrate that shipping water in single-use plastic is bonkers. We look forward to bringing more forward-thinking innovations to their eco-conscious shoppers."
Rachel Aldridge, buyer at Waitrose, added: "As a business, we're fully committed to removing single-use plastics wherever we can, and through working with Homethings, we're excited to be able to offer our customers more options for eco cleaning products that are easy to reuse and refill. These will be available exclusively in our shops and on waitrose.com from the end of March."
To view the full range of Homethings products, visit www.gethomethings.com
-