Prior Lake High School is dealing with another alleged racial incident just a week after a racist note was reportedly left inside a student athlete's gym bag. The latest incident involves a hateful and racist message discovered on a mirror of the PLHS girls' restroom, school officials said.
That promoted another letter to staff and families Tuesday morning on behalf of PLHS Principal John Bezek, informing them of the latest alleged attack against BIPOC students.
"This morning PLHS administration was made aware of a racist message written in a girls' bathroom," stated Bezek. "I am concerned for our students, particularly our BIPOC students who have been subjected to a hateful message, and I am angry that — yet again — I must send you this notification."
- Advertisement -
The message found on the mirror is just the latest racially charged incident that has surfaced at the high school in the span of just a few months.
Video led to expulsions
In November, a racist video that circulated on social media targeting Nya Sigin, a 14-year-old Black student at PLHS, went viral. The students who made the video have since been expelled and are no longer enrolled at the school.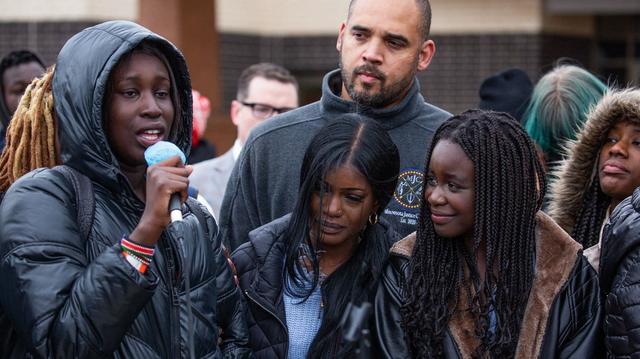 Prior Lake-Savage Area Schools is currently investigating the alleged racist incident from last week involving Achai Deng — a sophomore and player for the PLHS junior varsity girls basketball team — who said she found a racist note in her gym bag on Feb. 22. Deng is Sigin's cousin.
That incident led Demondi Johnson, head coach of the Prior Lake girls basketball team, to resign from his position. Johnson announced his resignation as head coach on Twitter.
The news also led to a decision by the PLHS administration and coaching staff to end the girls' basketball season and drop out of the first-round of the section playoffs.
In an effort to combat racism after several allegations of racial name calling from different high schools across the Twin Cities metro, the Minnesota State High School League announced a partnership with different organizations to launch an initiative to improve behavior at high school sporting events.
The initiative will include organizing student groups to develop a model code of conduct for all schools. Once developed, the code will be distributed to school boards, administrators, coaches, parents, and students statewide.
New investigation launched
In the letter sent to staff and parents addressing the message discovered on the mirror of the girls' bathroom, Bezek stated the school has launched an investigation.
"We will not tolerate this behavior that inflicts racial harm and prevents our students from learning in a safe environment. These actions continue to work to divide us and it must stop. We believe everyone in our schools needs to be accountable for their words and actions," stated Bezek. "We have immediately begun an investigation to determine who wrote the message and will take appropriate action."
Bezek urged anyone that has any information on the latest incident to come forward.
Student walk-out
According to social media, a student walk-out was totake place at Prior Lake High School on Wednesday, March 2, at 2:30 p.m.
The Prior Lake American reached out to district officials to confirm the walk-out but had not received confirmation as of Tuesday afternoon.