Loft conversions are a smart and stylish way of extending your home (without moving!) and makes the most out of unused space. In fact, the average attic occupies the largest square footage in your home, and compared to basement conversions, are easier to transform into a practical space solution.
'The joy of having a loft conversion is making the most of being at the top of the property,' Manuela Hamilford of Hamilford Design says, 'this really maximises the views and outlook to the sky.' Providing that your space is structurally sound, you may just need to insulate the walls, reinforce the flooring, and add windows.
In addition, loft conversions will add value to your property, so you'll literally have more cash in the attic, should you decide to sell up. Depending on what type of attic conversion is suitable for your home, the average cost for a basic loft is between £30,000 to £50,000 – which is still much cheaper than a new house.
But with taking on such a grand project, it can often be tricky to know where to begin. Here are some important considerations and dos and don'ts when planning a stylish loft conversion.
Do you have enough space in your loft? Before you even start planning, make sure you have a suitable space to convert. For this, check the type of roof. Does it have roof trusses (supports that run through the cross section of your roof) or rafters? 'The most important rule to follow is to check if there is enough head height in the loft space,' Helen Wood at Simply Loft says. 'As a rule of thumb, you need 2.2m of height between the floor joist and the ridge height.' At least half the loft space should be this height requirement to make for a comfortable attic bedroom or living room.
Oak Furnitureland
Do you want a stylish bedroom with ensuite bathroom? Or perhaps you want a stylish lounge, home office or even a gym? Your chosen preference will determine the design and layout of your loft conversion. 'If you are converting the loft to create a new master bedroom consider how much of the space you need for sleeping, storage and an ensuite,' Manuela suggests. 'A walk in wardrobe or dressing room with a door that keeps things hidden is an excellent way of being space efficient and placing an ensuite on the outside of the room is important when thinking about practical things like plumbing and needing to run pipes.'
VeluxLoop Photography/Lifestyle Floors
Typically, most loft conversions fall under 'permitted development', which means you don't need planning permission. However, there are some exceptions where you might need to. Listed houses for example, or those who reside in conservation areas would need Listed Building Consent. 'Some loft conversions can be carried out under permitted development rules, making the process faster and less tedious,' says Helen. 'If you live in a flat, maisonette or a conservation area, then planning permission will be required.'
In any case, you would still need Building Regulations approval and a Party Wall Agreement with your neighbours, depending on the type of conversion.
James OsmondGetty Images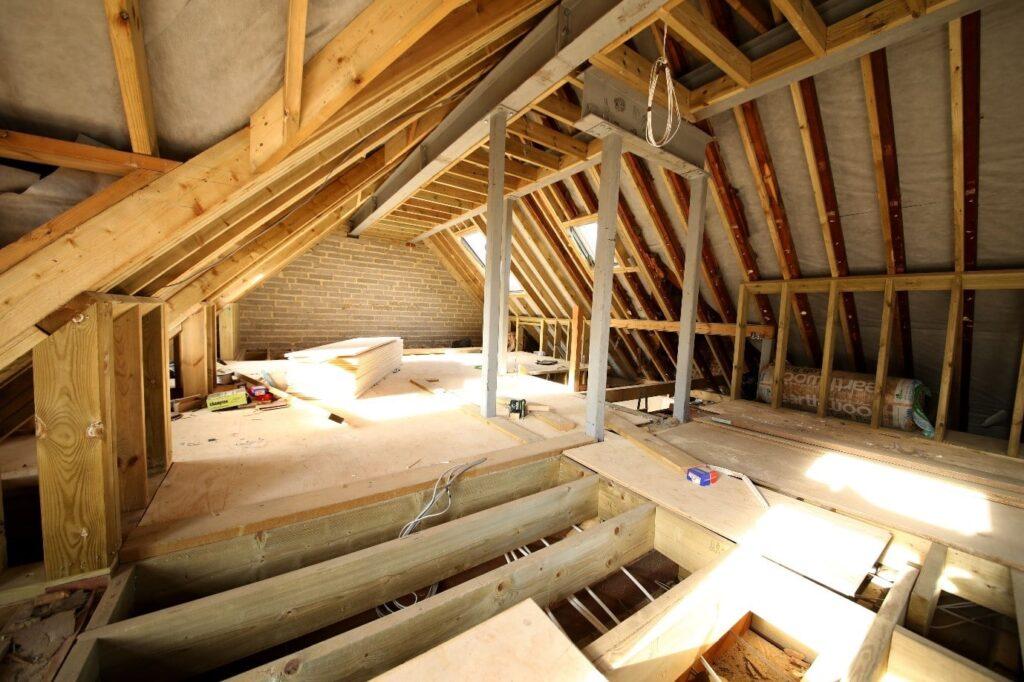 Before you start any loft conversion project, it has to meet the required building regulations.
These include the use of installing a permanent staircase, especially if you're converting into a bedroom, bathroom or office. However, if you lack space, an alternative could be a fixed ladder or spiral staircase. You'll also need good quality insulation to retain the warmth during colder temperatures, as well as to keep the space cool in the summer.
More importantly, building materials must comply with fire regulations by having either fire escape windows or exits, and smoke detectors in the home.
John Cullen Lighting
It's recommended that you get at least three quotes from a specialist loft conversion or building companies before you start. Always check if your tradesman or building company are registered with an official body, and that they have insurance. Examples of official bodies include The Chartered Institute of Building (CIOB) and the Federation of Master Builders (FMB).
Chris Snook
Nowadays, loft conversions in London are currently starting from around £45,000, but it's handy to have contingency funds. 'This is for design and build projects so includes architectural and structural drawings as well as the construction,' Helen advises. 'Always have a contingency in the budget of approximately 10 per cent for any unknown extras and don't forget to budget for fixtures and fittings such as bathrooms and any furniture you would like in the new loft.'
Paul Springett B / Alamy Stock Photo
Whether you opt for a skylight or double windows, always consider the best position for your roof windows. Natural light works well to open up a loft space and make it bright and airy. It also sets the feel and mood to the space, so you need to decide on what would be suitable for your lifestyle. 'Juliet balconies work really well in smaller loft conversions as they give a sense that the space goes beyond the footprint of the room,' Manuela says. 'Skylights over beds are also a lovely way of enjoying the night skies and create a good cross breeze in warmer months.'
ShelvedVelux
What are the main types of loft conversion and average costs?
If you have minimal attic space, you can still create a room in the roof. These conversions usually consist of a skylight, floor reinforcement, stairs, insulation, lighting and heating. Average cost: £35,000 - £40,000 (fully fitted out).
These can offer more space or head height with a high pitch angle roof and more floor space. Similarly, they have the same requirements as the basic rooflight, but with the addition of a dormer window. Average cost: from £40,000 - £45,000.
This type consists of the hipped, slanted roof section being converted to a vertical wall (gable). This will create more internal space, given a standard, pitched roof, while the vertical wall allows for windows.Average cost: from £25,000 to £30,000 upwards.
This is a huge project as it involves adding a new storey to the top of your home. The sloping roof structure would need to be changed into an almost vertical wall at 72 degrees, resulting in a flat roof.Average cost: from £45,000 to £80,000.
Follow House Beautiful on Instagram.