DIY - three letters that can spell doom to a Bank Holiday weekend and, largely in my case, more often stand for Don't Involve Yourself. But short of paying a professional to come round, the need to pick up a paintbrush is inevitable for us all, whether you're sprucing up a room or tackling the whole house, and you'll need the best paint for walls to dip your brush into.
Nothing but abject disappointment will ever come from simply rushing out to your nearest homeware shop, grabbing the first tin of paint you see, then rushing back to slap it up your walls. Uneven application of coatings, the wrong kind of paint for the job, and poor-quality paint brushes or rollers can all combine to turn your decorating dream into DIY hell.
Read on for our guide to choosing the best paint for walls and how best to prepare for a painting session, followed by our pick of the very best wall paint available to buy.
---
Best paint for walls: At a glance
---
How to choose the best wall paint for you
So where do you start? Usually with colour, and also usually with an array of tester pots and patches to help you visualise which colour works best for you and your room. Once you've found the hue you're happy with, then you need to decide on what kind of a finish you're after. Would the room look better in matt or perhaps a soft sheen silk? Do the walls need protecting from humidity and steam? Perhaps food and drink spillages might need to be a consideration? And what about the potential of problematic mould?
There's a lot to consider before you even think of reaching for the roller, so let's cover some of the most common concerns below.
What preparation do I need to do prior to painting?
The amount of preparation you'll require very much depends on the condition of the walls in question, but generally the better your prep is, the easier you'll find the painting process and the finer your finish will be.
First, ensure your walls are clean, dry and free from grease. Naturally, you'll need to remove any old, flaky paint and – although it may be adding an extra job – it always pays to ensure the smoothest surface by rubbing your walls with waterproof sandpaper, particularly on any glossy areas. Starting with a clean, blank canvas is the best way to guarantee a good, even finish, so spend the time and prep properly.
See related Best paint roller 2021: The best small, large, adjustable and electric paint rollersBest wallpaper 2021: The top styles to buy from just £10 a roll
Another issue that falls into the preparation camp is cloth coverings or newspaper pages. Do you have any to protect your flooring? After all, even non-drip paint can sometimes go astray with an unintended twitch of the brush or roller. And while this may not be too big a problem with tiled, wooden or laminate floors, getting paint out of carpet is no easy task. So, ensure you protect anything beneath where you are painting and, while you're at it, protect yourself too and don't wear anything you're particularly fond of.
Finally, check the weather report. You'll see why next.
What about ventilation?
Many paints these days claim to be odour-free, but it's not only odour you need to consider. Most latex- or oil-based paints release fumes that, while not deadly, can seriously irritate your eyes, nose and throat, and prolonged exposure to these fumes can bring on nausea, headaches and dizziness. So, check that weather report and pick a day when having all the windows open will not lead to any other form of discomfort, such as icy winds and rain blowing in.
Also, as these fumes can linger, try for a run of days when your windows can be left open, and if you have electric fans available, utilise them to disperse the fumes too.
Do different rooms need different paints?
Absolutely, but paint type is most important when it comes to bathrooms and kitchens, where steam, humidity and grease can be a threat to your walls. There are paints specifically for these rooms, and we've selected the best of those in our reviews below.
READ NEXT: Our pick of the best lawnmowers
Okay, so how do I get started?
When painting a wall, we start with the process of "cutting in". Basically, before you break out the big guns, you're going to need to pay special attention to the more fiddly areas of your wall, such as around the edges of light switches and plug sockets, the frames of doors and windows, the tops of skirting boards and, indeed, coving, should you have it.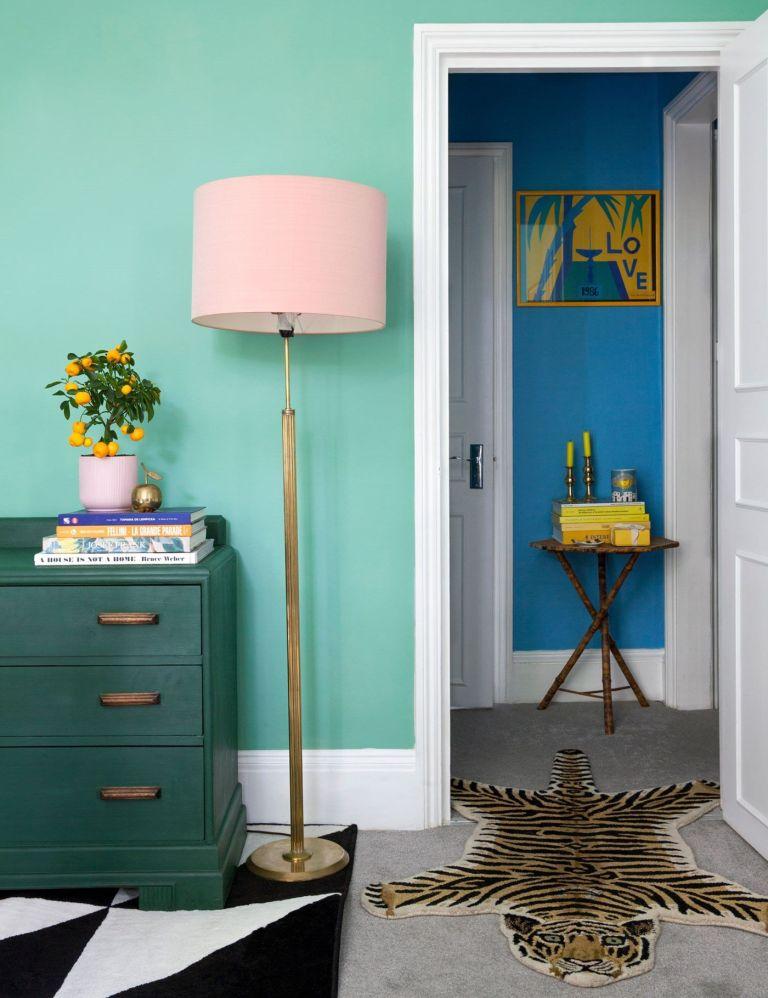 For this you're going to need a narrow-headed paintbrush and a steady hand. Using the same paint you intend to coat the entire wall with, carefully apply to these areas, making sure you quickly remove any mishaps with a rag dipped in white spirit. Another tip for this, if you're uncertain of your ability, use masking tape to cover exposed areas you need to paint right up to but fear touching.
Cutting in achieved, now's the time to grab your weapon of choice – paintbrush or roller (we heartily recommend a roller for an easier, more evenly applied painting life) and get to work. Keep an even pressure to give a uniform coating in all areas and be sure to take a step back once in a while just to check how it looks from a little distance.
How many coats do I need to apply?
One of the paints we've mentioned here is a one-coat option, but most are two at least, so be sure to read the recommendation on the can and also adhere to the drying times carefully. Wet paint on still tacky paint does not work, so make sure your first coat is fully dried, then get set for the second, remembering to repeat your cutting in too.
READ NEXT: Our pick of the best cordless drills
The best paint for walls in 2021
1. Dulux Easycare Washable & Tough Matt: Best wall paint for durability
Price: £17 | Buy now from Amazon
There are few things as threatening to the ongoing aesthetics of a home's interior than the addition of children. From the moment your little ones achieve free movement, the walls of your house are under constant threat from crayons, felt tips and food. And as they grow, that threat grows to include random knocks that cause cracks and chipping. So, give your walls a fighting chance with paint that can stand its ground.
Easycare Washable & Tough Matt from Dulux is some 20x tougher than standard Dulux Matt and features the same Diamond Tough tech of Dulux's Endurance line, but also adds to that unique stain-repellent technology to actually repel water-based liquids, making them easy to just wipe away.
It's the perfect paint for most communal areas of the house where the kids congregate. If grease, drinks or drawings are added to your walls, a wipe away is all it takes.
Key specs – Finish: Matt; Size: 2.5 litres; Drying time: 4 hours; Coverage: Up to 13m²/litre; Coats required: 2; Colours available: 40
Dulux 5354974 Easycare Washable & Tough Matt Emulsion Paint Colour of The Year 2020, Tranquil Dawn, 2.5 Litres
£22.35 (£8.94 / l) Buy now
2. Johnstone's Kitchen Matt: Best wall paint for kitchens
Price: £18 | Buy now from Amazon
The kitchen is arguably the most important room in the home. You keep your food in it, you cook in it, and it's always the inevitable hotspot of any house party. For all these reasons, the walls of your kitchen are under constant threat from steam and grease. So, unless you really enjoy repainting over new stains constantly, you need a paint that's both durable and able to resist the risks that come with cooking.
Johnstone's Kitchen Matt is that paint. Not only is it available in some 16 soothing kitchen colours, it also dries quickly after being applied and will shrug the steam from a banana bread bake-off or an accidental spattering of fat from a frying pan with a swift and simple swipe of a cloth. If the kitchen is the heart of your home, Johnstone's Kitchen Matt is the paint to keep it perfect.
Key specs – Finish: Matt; Size: 2.5 litres; Drying time: 1-2 hours; Coverage: 12m²; Coats required: 2; Colours available: 16
Johnstone's 389487 - Kitchen Paint - Matt - Grease Resisting - Highly Durable - Low Odour - Vintage Duck Egg - 2.5 L
£17.99 (£7.20 / l) Buy now
3. Dulux Easycare Bathroom Emulsion: Best wall paint for bathrooms
Price: £18 | Buy now from Amazon
The bathroom is not just the hygiene hub of the house, it should also be a spa-style haven in your home. To this end, the walls of your bathroom should be both aesthetically easy on the eye and also up to the task of handling hours of heat and humidity without the fear of paint cracking and flaking away.
For this task, we recommend Easycare Bathroom Emulsion from Dulux, a paint created specifically to stand its ground against any onslaught of steam. Its clever MouldTec formulation also protects against the mould that inevitably comes with moisture for a full five years, while its Soft Sheen finish adds a look of luxury to your palace of pampering. With a wide range of colour options available, bathroom perfection is only 24 drying hours away, so sit back in the suds and soak stress-free.
Key specs – Finish: Soft sheen; Size: 2.5 litres; Drying time: 6 hours between coats, 24 hours minimum to dry; Coverage: 13m²; Coats required: 1-2; Colours available: 33
Dulux 500001 Easycare Bathroom Soft Sheen Emulsion Paint For Walls And Ceilings - Pure Brilliant White 2. 5 Litres
£17.30 (£6.92 / l) Buy now
4. Dulux Matt Emulsion Paint for Walls and Ceilings – Pure Brilliant White: Best wall paint for a modern finish
Price: £19 | Buy now from Amazon
You can have all the shabby chic you like, but when it comes to cool, timeless minimalism, there's nothing better than pure brilliant white. With a smooth and creamy texture that delivers a thoroughly modern, flat finish, nothing achieves that better than Dulux's Matt Emulsion.
It boasts the paint-maker's resin-based Chromalock paint formulation, which is designed to help keep your walls whiter for longer, even those exposed to direct sunlight all day. It's also easy to apply, offering great coverage and a good depth of colour, and requiring fewer coats than with other white emulsion options. Your walls will be left with a professional, streak-free finish you can be proud of.
Key specs – Finish: Matt; Size: 2.5 litres; Drying time: 2-4 hours; Coverage: 13m²; Coats required: 2; Colours available: 1
Dulux 5092360 Matt Emulsion Paint For Walls And Ceilings - Pure Brilliant White 2. 5 Litres
£23.29 (£9.32 / l) Buy now
5. Johnstone's One Coat Matt: Best wall paint for the hurried
Price: £18 | Buy now from Amazon
Let's face it, not everyone has the time or inclination to apply a second coat of paint after waiting for the first coat to dry. To those time-poor people we recommend One Coat from Johnstone's. Self-undercoating and low in odour (see earlier notes on adequate ventilation being paramount), after one quick tickle with a paintbrush or flash of a roller, your walls will look lovely, and – the best bit – will be dry to the touch within the space of two hours, with no second coat called for.
Available in a range of attractive, contemporary colours, if a swift and stylish room makeover is required, cut your painting time in half with One Coat.
Key specs – Finish: Matt; Size: 2.5 litres; Drying time: 1-2 hours; Coverage: 20m²; Coats required: 1; Colours available: 11
Johnstone's 389515 - One Coat Paint - Matt - Fast Drying - Superior Coverage - Low Odour - Pure Brilliant White - 2.5 L
£19.00 (£7.60 / l) Buy now
6. Ronseal Anti Mould Paint: Best wall paint for combating mould
Price: £15 | Buy now from Amazon
The bane of any abode, mould can happen anywhere. Bathrooms and basements are generally the most at risk, but any interior walls can become a victim if the conditions are suitably damp. Mould can be difficult to eliminate, and the spores mould produces can be hazardous to your health. So, gloss over the spectre of spores and give yourself a few years of mould-free grace.
Ronseal Anti Mould paint goes on easily in just two coats, protecting you and yours from any mould-produced allergens for some six years.
Benefitting from a built-in biocide, Ronseal's offering actively prevents the growth of all common types of mould (including black mould) from building up on the paint surface in areas of high condensation and humidity, keeping it blissfully mould-free.
With a tough, scrubbable finish that's easy to wipe clean, this is a highly practical paint for problem walls.
Key specs – Finish: Matt; Size: 2.5 litres; Drying time: 2-4 hours; Coverage: 13m²; Coats required: 2; Colours available: 1
RONSEAL AMPWM750 Anti Mould Paint White Matt 750ml