Q I'd like to try using a metallic paint I have seen in a store, but before buying it I'd like to know: Can I dilute it? Do I use regular paint tools to apply it? And can I use it on wood or a plastered wall?
A Metallic paint is just as versatile as other paint, and it offers exciting decorative possibilities. It can be sprayed, brushed, rolled or sponged onto most surfaces. Today's eco-friendly preference is for acrylic or water-based paint.
Some metallic paints are blended for metal surfaces, some for walls, some for wood surfaces. Before you purchase one, check the label to make sure its for the type of surface you want to cover. As with regular latex paint, you can add glazing liquid to give it a more translucent look; glaze also slows the drying time, so you can work with it longer if you're creating a special finish effect.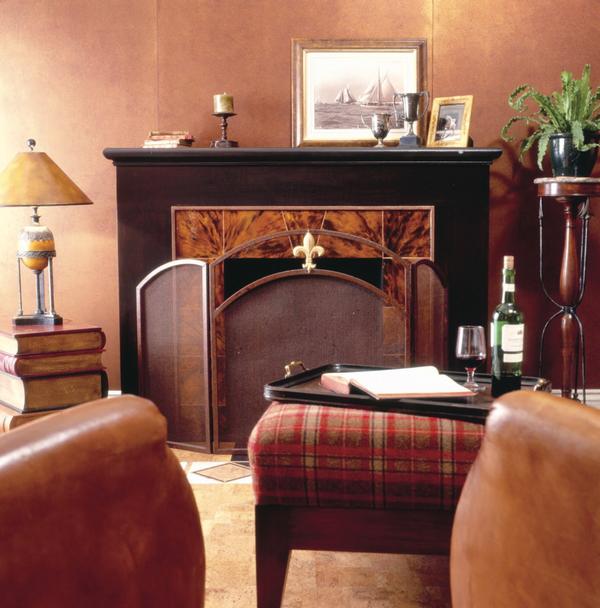 You can use metallic paint to replicate the look of brushed-steel panels. In one project, I applied it to the lower section of a wall, over a base coat of satin finish black latex. I mixed two colored glazes into water-based silver metallic paint and water-based aluminum metallic paint, using one part paint to one part glazing liquid.
I taped off 3-foot-wide panels on the lower part of the wall, leaving a gap of 1/8-inch between them. Working on one panel at a time, I applied the silver glaze in patches by moving my brush horizontally and then vertically to cover 70 percent of the base coat. I used the aluminum glaze to fill the gaps between the panels. I then blended the silver and aluminum colors, repeating the horizontal and vertical brush strokes, and that allowed bits of the black undercoat to show. Finally, I used a dry cloth to polish the tacky paint, removing more of the glaze and creating a realistic steel patina look.
I painted the upper walls in a rich cafe au lait shade. The finished project radiates a warm glow both day and night.
Q I'm moving into my first apartment, and I want to create a serene, relaxing master bedroom and make it look mature and polished. My duvet has a bold pattern, and the bedding colors are lilac, baby blue and pale green. Walls and floor are white. I prefer a dark room for sleeping and am wondering about a color for the drapes. I also want to incorporate maps and travel-related decor, but am not sure how to do all this, since the print on the bedding is so bold.
A The mood of serenity in your room is heightened with use of quiet colors. You have enough white. Choose a darker shade of one of the other colors for the drapes, then have them lined. If that's not dark enough, you can also purchase blackout blinds to hang behind the drapes. Display maps and treasures from your travels that will inspire happy thoughts and dreams of adventures to come.
Email questions to house2home@debbietravis.com.
---