NEWS|FEATURES|PREVIEWS|EVENTS
originally published: 10/25/2019
(ASBURY PARK, NJ) -- Joseph Incagnoli (better known as Joe Harvard) was a man of many talents and many interests. Creativity poured out from him and generally released via music, art, or writing.He died on March 24, 2019 but continues to be a source of inspiration to the Asbury Park arts scene. "Glow for Joe" - a showcase of Joe Harvard's most recent work, which he referred to as, "found object 'trash art' and black lit Day-Glo work". The work will be on display at art629 Gallery in Asbury Park until mid-January.
This will be the second gallery showing at art629 featuring the work of Harvard, who had lived and worked in Asbury Park for many years both as an artist and musician.
"I feel very honored to be able to do this show in his name and memory. ", says Patrick Schiavino owner of art629 Gallery."He is very much missed in our community. His 'glow' will warm the streets of Cookman Avenue this winter."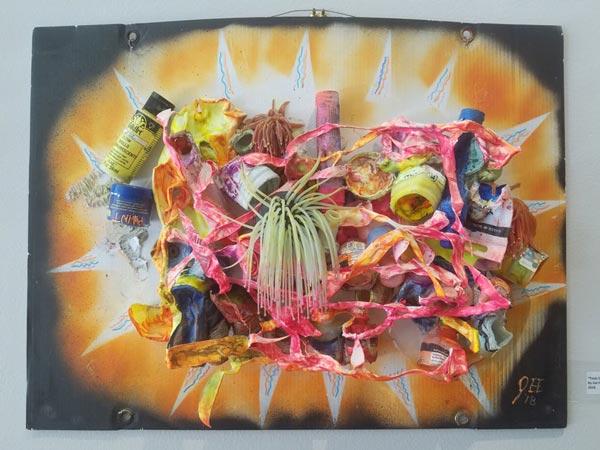 In June, 2015, Joe founded gARTen @ 713 Cookman, an outdoor community garden-cum-art gallery dedicated to found object "trash art" and black lit Day-glo work. He and artists Mallory Massara and Marc Davis spent the next 17 months transforming a vacant lot into a faux archaeological site where plastic containers are repurposed into "monuments" to modern lifestyle. Most of the work in the Joe's Glow retrospective at art629 Gallery was created for the gARTen during this period. Today, in Joe's absence, the lot has unfortunately returned to its' former condition of being overgrown and littered with debris.
art629 Gallery, located at 629 Cookman Avenue in Asbury Park, is dedicated to the exhibition of fine and contemporary art with the objective being to give all artists a voice, with its' focus on bringing new and fresh ideas to the region.Where other galleries may shy away from work which may be considered "controversial" or "outsider", art629 welcomes those works, and is proud to provide a platform for those artists who think and create "outside the box."
---
Joe Harvard On His Work: "Beauty Thru Radiation"
The basic recipe for a Joe Harvard piece, which I call "Beauty Thru Radiation", is to turn trash into art that has a dual life – one in natural light and a second under ultraviolet light – popularly known as black light. I believe art should transcend the mundane and strive for the magical; if the ancient Egyptians or Greeks had black lights, I'm certain every temple would've had them installed. Using them as a way of altering the palette of a piece is like placing our own "selective filter" on what we view, seeing the world not through rose-colored glasses but a magically glowing "alternate reality."
I collect found and recycled objects, then paint them with Day-Glo paints and markers, utilizing a wide variety of materials including construction debris, trash-pickings, flotsam, Boardwalk refuse, and plastic containers from laundromat bins. Many pieces are mounted on old trays, discarded storage tub lids or scrap wood. Some are joined with "at-hand" materials like insulating foam but most use screws, wire, gravity and / or melting by propane torch; adhesives are kept to a minimum. The pieces usually develop slowly and are thematic, like frozen ideas; humor and irony often find their way into my work.
A lot of my BTR work explores means of denying the frame to reach out beyond a two-dimensional rectangle into surrounding space. My interest in art which strives for 3-D is matched by my fondness for the discarded and my admiration for the patinas and hues of yesterday. As a kid exploring the disused buildings along East Boston's waterfront. I learned to appreciate the echoes of events past found in abandoned places. This empathy with humankind's cast-off creations was reinforced during the two school years I spent as Assistant to the Director of the Peabody Museum, and after graduation during excavation work in the deserts of Saudi Arabia and on NYC's East River.
These pieces reflect the fondness of a former archaeologist for the aesthetics of antiquity, including the original forms and colors, as well as the patinas and colorations of aging. Discernible echoes of my visits to Pakistan and Saudi Arabia, and of my studies of the art and artifacts of the past while earning my degree in archaeological anthropology at Harvard University are there to see – particularly those of the Islamic world, my area of study.
There are even elements of Warhol's aesthetics that rubbed off while writing "The Velvet Underground and Nico" for the 33-1/3 Series, and the DIY ethos of the Underground rock / Punk / Indie musical scenes in which I was deeply immersed for most of my 20's and 30's.
I deliberately keep my toolkit simple in an effort to evoke the handicraft of long-ago ages. Techniques range from a single color of marker on a milk jug to acrylic, enamel, oil, latex and fabric paint combinations, with multi-layered collage, decoupage, blowtorch modeling and integration of rubber, plastic, metal and wooden objects. In other words, anything and everything on anything and everything. I hope you enjoy viewing the work as much as I did making it."