There is nothing like a crackling fire to curl up in front of as the days get colder and the nights get longer. And where better to hang your Christmas stockings than a classic brick fireplace?
But, if your brick fireplace is looking lackluster, a fresh lick of paint could be all you need to revitalize it. Repainting might seem daunting, but just follow our step-by-step guide to how to paint a brick fireplace and you'll find it's actually an inexpensive and surprisingly easy way to breathe new life into your living room.
If you have been looking for a sign to repaint your brick fireplace, this is it! We have curated a simple guide on how best to paint your fireplace, including tips and tricks from the experts, plus plenty of inspiring fireplace ideas, so you can get it right the first time.
How to paint a brick fireplace – from preparation to painting
You will need
Before you get started
Before you get started, you should check that your fireplace is fit for painting.
Inspect your fireplace surround to determine its brick. Although there are plenty of paints for every surface, some stone fireplaces – like those made of limestone, sandstone, or river rock – are more difficult to paint or change once the painting has been done.
If you are still happy to go ahead with painting the brick, check the state that it is in. If your bricks are in poor condition, painting might seem like a quick fix, but the reality is that painting over brick damage can make the issues worse by sealing the brick and allowing moisture to fester. Better to resolve these issues properly with the help of a professional than make matters worse.
If your bricks are in decent shape, you can fill any small cracks with acrylic caulk and the fireplace will be safe for painting. If you have any loose bits of mortar or crumbling brick, use a medium 120-grit sandpaper to lightly sand it away.
What paint should you use to paint a brick fireplace?
Special paint is required to paint bricks due to the material. However, special paint is also needed to paint a brick fireplace, depending on whether you intend to light a real fire inside - you can still use some eco paint, however.
If you intend the brick fireplace to be lit, you should ensure the paint you choose is rated for higher temperatures (up to 250F).
If your brick fireplace is for decorative purposes only, or if it holds a faux fire inside, latex interior paint will work. Latex should be used rather than oil or acrylic paint as it is more breathable and better for the brick.
Colour and paint expert Annie Sloan says: 'Brickwork lends itself exceptionally well to Chalk Paint™ because it's porous and will absorb the paint beautifully. Because it's a standing surface you won't need to Wax or Lacquer to protect the painted fireplace itself, although do make sure to finish the mantle to protect.'
As Sloan suggests, you should consider the finish you are looking for when painting your brick fireplace. Semi-gloss paint is harder to apply but provides a glamorous finish that is easier to clean and less likely to stain than eggshell paints which, in turn, are lower sheen but show fewer imperfections.
When painting your brick fireplace, you should note that these suggestions are for the exterior brick and not the interior firebox of a working fireplace. A special heat-resistant paint should be used on a firebox.
What color should you paint a brick fireplace?
Annie Sloan says: 'Rooms with fireplaces in them will have almost always been designed so that the eye will be drawn to the fireplace, and so it's important to consider the color properly.'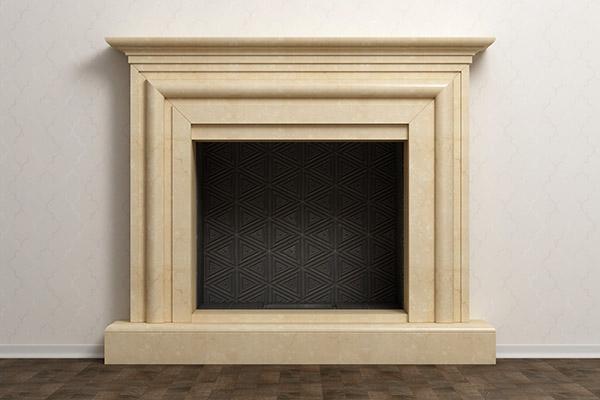 'There are two schools of thought when it comes to fireplace painting: one is to paint it in warm colors like orange, yellow or red to suggest warmth even when the fire isn't lit,' says Sloan. 'This looks particularly effective in simply decorated otherwise neutral rooms with mid-century modern furniture and contemporary styling.'
'Alternatively, go for a bold contrast,' she says. 'Rich, strong, dark shades like inky Oxford Navy, handsome Amsterdam Green or jeweled toned Aubusson Blue will juxtapose fabulously with the orange and yellow of a lit fire and help emphasize feelings of coziness.'
Patrick O'Donnell, a brand ambassador for Farrow & Ball, adds: 'Two classic choices would be a good dark such as Off Black or a simple off white such as Strong White or Shaded White.' For something more unusual, try whitewash painting, where the brick shows through the paint in places, for a rustic look.
O'Donnell says: 'Think about how you want the fireplace to sit in your room - are you looking to make it a strong focal point or create something subtle?'
'For the former, think about using an empathetic dark on the chimney breast like the sophisticated Inchyra Blue or Studio Green against Light Blue walls. The same scheme works equally well simply with Light Blue walls taking your darker tone over the mantelpiece or woodwork - keeping all the drama below eye level.'
How to paint a brick fireplace
'Happily, painting a fireplace is an exceptionally easy project,' says Annie Sloan. 'It makes a huge difference in a room with very little effort, so what are you waiting for?!'
Step one: clean the fireplace
After checking that your brick fireplace is fit for painting and that the bricks are in good condition, you should thoroughly clean the brick. This ensures that the paint adheres to the brick and dries properly.
Make sure all dirt and dust is cleaned away. This can be done with a damp cloth if your fireplace is relatively clean already, or if your fireplace is slightly dirty, soapy water or a fireplace cleaning product will do the trick.
If there is lots of dirt to clean away, use a degreaser like trisodium phosphate (TSP) and a wire scrub brush. Remember to wear gloves and safety goggles when cleaning with chemicals, and ensure the room has a good air flow.
Before moving on to the next step, ensure the fireplace is completely dry.
Step two: prepare the area around your fireplace
Use painters' tape to cover any areas of the fireplace you would like to remain unpainted. You should also cover the area surrounding the fireplace with paint sheets, tarp or cloth to keep your floors clean.
Step three: prime the brick
'The most successful decorating projects depend on good preparation,' says Patrick O'Donnell. Priming your brick fireplace is the most important step in the painting process to ensure you protect the integrity of your bricks.
Even if you do not intend to burn real fires in your brick fireplace, the area is more exposed to humidity than regular walls because of the flue. Priming the brick also provides a nicer surface to paint over and can also block stains that form when the brick is exposed to humidity. If you are worried about soot stains, you should use a stain-blocking oil-based primer.
Use a paint roller to apply most of the primer and a stiff-bristled brush to get inside all of the crevices.
'Always follow the manufacturer's product advice sheets,' O'Donnell says. 'Whilst time-consuming, this will give you a better finish and longevity.' If you want to ensure that the brick surface is completely invisible at the end of the painting process, use a highly pigmented primer and multiple coats.
You should remember to keep the room well-ventilated while using primer, and not move on to subsequent coats or to painting before the fireplace is completely dry.
Step four: painting the brick fireplace
Finally, the part we have all been waiting for: painting!
As with the primer, a roller should be used to paint your brick fireplace to ensure even coverage. Use a paintbrush for patching up the spots the roller misses and any nooks and crannies.
Apply a second and third coat of paint as needed, allowing plenty of time between coats to ensure the previous layer is completely dry.
Et voila!
Your questions answered
Do you have to prime a brick fireplace before painting it?
Yes! Priming is the most important step when painting a brick fireplace as it protects the integrity of the brick, especially against humidity and staining. Priming also provides a smoother surface to paint on.
Should I use special paint to paint my brick fireplace?
You will need special paint when painting your brick fireplace to ensure that it is fit for purpose. Latex paint is more breathable than acrylic and oil paints so perfect for painting brick to protect the brick's integrity. If you intend to burn a real fire in your fireplace, you should also choose a heat resistant paint.
Is it safe to paint a brick fireplace?
Yes, it is completely safe to paint a brick fireplace if you prepare the fireplace well. This means cleaning the fireplace, checking the integrity of the brick, priming and using the correct paint.