Photo: amazon.com
As a building material, concrete doesn't get enough credit. Most folks see it as utilitarian, reliable, and strong but also tend to neglect it when it comes to style and protection. Not you, though—you're ready to take care of your concrete surfaces and treat them with the respect they deserve.
To spruce up your concrete surfaces, you need the best concrete paint. You'll be able to change the color and dress it up while also adding a layer of protection to the surface. Old, dull concrete surfaces like your patio, garage floor, or basement walls can become fresh and clean in very little time. The best concrete paints also protect concrete surfaces from fluids, resist stains, and provide a nonslip surface for safe walking.
If you're ready to give your masonry surface a new look, this guide will help you choose the best concrete paint for your project.
Photo: amazon.com
Types of Concrete Paint
There are two types of concrete paint that you can use to protect your surfaces and dress up your home a bit. They each have their pros and cons, specifically regarding cost, durability, and ease of use. Familiarize yourself with both so you can make an informed decision on which type of paint will work best for your project.
Acrylic latex paint is a water-based product that mixes and spreads easily on masonry surfaces. You can use it to paint floors, walls, steps, or any other concrete or block surface. It doesn't take any special tools, brushes, or rollers; it's a very straightforward DIY product.
Acrylic latex is a budget-friendly option compared to an epoxy system. However, it's less durable. A concrete garage floor could require a new coat of paint every two to three years, though it will last longer on vertical surfaces. Some acrylics have small particles mixed throughout the paint to create a nonslip surface, which is ideal for exterior walkways and steps.
Epoxy paint is another great option for painting concrete surfaces. It's an extremely durable, long-lasting material that can take harsh treatment, making it an ideal paint for garage floors. Epoxies can create shiny, glossy surfaces with decorative color flakes, making them a popular choice in high-end residential garages and vehicle showrooms.
Epoxy paints are more expensive than latex and more labor-intensive to apply. Epoxy kits come with two liquids that you need to mix before application: an epoxy resin and a hardener. This type of paint can be difficult to spread, depending on the thickness, but the end result is a rock-solid floor covering that looks amazing and is impervious to water and resists stains.
What to Consider When Choosing the Best Concrete Paint
Latex versus epoxy isn't the only decision you'll have to make when choosing the best concrete paint. Below is a list of the important considerations to keep in mind when shopping for your new concrete coating. Familiarize yourself with each point to help choose the best concrete paint for your specific surface.
Where and how you intend to use your concrete paint will carry a lot of weight when choosing the ideal product. For instance, some concrete paints won't do as well outdoors as they will inside, so you'll have to purchase an exterior-grade paint in that scenario. While most concrete paints are "interior/exterior," you need to be sure that the one you choose will work outside.
Also, some paints don't work well on vertical surfaces. Floor paints and epoxies can be heavy, causing them to run down a wall before they dry. While they can dry on a wall, you'll end up with streaking, running, and uneven coats if you use a floor paint on a vertical surface like a foundation or basement wall. For these applications, be sure to choose a concrete wall paint or concrete block/brick paint.
Unless you live in paradise, your exterior concrete surfaces see some serious changes throughout the year. They bake in the summer sun and freeze in the winter, which can cause fading and cracking with a low-quality or interior-rated paint. Also, rain and snow have a way of breaking down low-grade paints, getting through the paint's surface and soaking into the pores of your concrete.
Instead of letting Mother Nature have her way with your home's masonry surfaces, choose a paint with some weather resistance. While no paint will last forever in harsh conditions, exterior-grade paints and epoxies will hold up and require fewer touch-ups and repairs between coats.
When choosing the best concrete paint for your project, give some thought to the color tone. While colors like "slate" and "battleship gray" are the most common hues for concrete surfaces, you can find a wide range of colors to choose from.
For unique colors and effects, you might consider an epoxy paint. Many have base colors as well as color flakes or chips that you can scatter on the surface to change the look of the floor. For instance, if you'd like your floor to match with your fire-red classic car, you can choose a base color with a red flake to match the sparkling red paint on your pride and joy.
Depending on the look you're after, you might want to choose a paint with a glossy finish or sheen. A glossy surface will reflect light and create a smooth surface that's both durable and easy to clean. You're less likely to notice scratches and scuffs with a shiny, glossy finish as well. If you'd prefer your masonry to blend into the background a bit more, then forgo the glossy sheen.
Epoxy surfaces are naturally glossy, but you can buff them with a floor buffer or a vehicle detailing buffer if they become dull.
Two points to keep in mind with glossy paints: They're generally more durable against stains and scratches, but they can be slippery, as moisture won't absorb as easily. If you choose a glossy paint for a flooring surface, check to ensure that it's nonslip.
When it comes to washability, you have to think about cleanup while applying the concrete paint and also how easy messes will be to clean up once the paint is applied.
Latex paint cleanup is a simple process. Since latex paints are water-based, you can wash any messes on your tools with soap and water. These paints also wash off your hands easily. Epoxies, on the other hand, don't clean up very easily, requiring much harsher chemicals to remove.
When cleaning up messes on painted surfaces, you can use soap and water on both latex and epoxy floors, but epoxy will stand up to regular cleaning much better than latex will. While latex paint will begin to break down after being washed multiple times, you can mop epoxy floors without causing any damage to the finish.
Painting your concrete surfaces can be a bit of a headache, especially when it's a garage or basement floor. Since you have to remove everything from the space and clean the surface before you can get to work, you want that coat to last as long as possible.
In most cases, latex paint applied to a floor lasts around two years before needing another coat, but on walls, it can last much longer. Epoxy floor paint lasts much longer before needing another coat, making it the better choice for a floor if you'd prefer to space out fresh coats as much as possible.
Our Top Picks
Choosing the best concrete paint comes down to several factors, but the following list will have something for just about every scenario. From concrete and block wall paint to paint for high-gloss epoxy floors, you'll find an excellent product for your project here.
1Photo: amazon.com Check Latest Price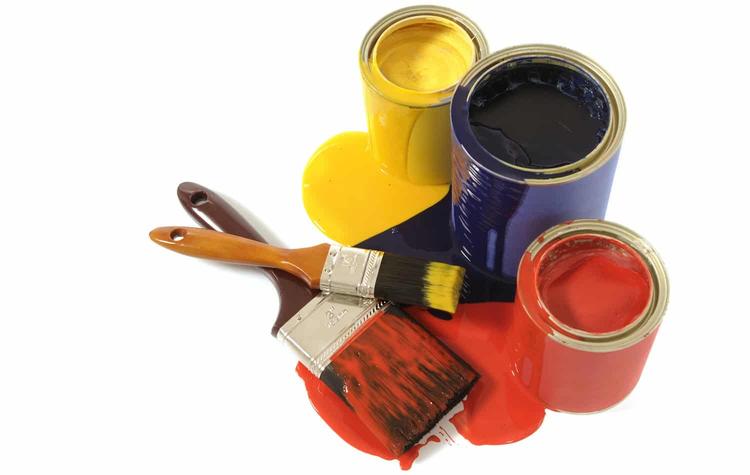 This unique paint from INSL-X provides a durable, skid-resistant surface. This acrylic latex paint works on concrete, wood, and metal surfaces, and it's suitable for both interior and exterior applications. You can roll or brush it on the surface, and you can apply a second coat after eight hours. One gallon will cover 80 to 120 square feet.
Because this paint is water-based, cleanup is easy and straightforward with just soap and warm water. Light foot traffic is also OK after 24 hours, but avoid heavy traffic in areas like walkways and sidewalks for four or five days.
Pros
Cons
2Photo: amazon.com Check Latest Price
Also from INSL-X, this water-based stain paint works as a stain with one coat, while a second coat produces an opaque paint finish. It's easy to apply with a brush or roller, and it cleans easily with soap and water.
One gallon will cover between 300 and 400 square feet of concrete, and you can apply a second coat in as little as four hours. You can use it on interior or exterior surfaces, on floors, and on walls and foundations.
Pros
Cons
3Photo: amazon.com Check Latest Price
KILZ masonry paint is worth a look if you're considering painting your basement walls or floor. This water-based paint provides a mold- and mildew-resistant finish to lessen the effects of a damp basement. It works on concrete, bricks, drywall, stucco, and brick surfaces, and you can apply it with a brush, roller, or sprayer. For cleanup, soap and warm water will take care of the job.
You'll get up to 400 square feet of coverage with a single one-gallon can.
Pros
Cons
4Photo: amazon.com Check Latest Price
Rust-Oleum's EpoxyShield Garage Floor Coating kit is a high-quality, two-part epoxy kit with everything you need to coat your garage floor with a tough and attractive finish. It comes with the two-part epoxy, a concrete etch solution to roughen the concrete surface and promote adhesion, decorative color chips, and a stirring stick.
This kit covers garages up to 2.5 cars in size, which breaks down to around 500 square feet. Once applied, it takes 24 hours to be walk-on ready, and you can drive on it in as few as 72 hours. It has a semi-gloss finish that protects your garage floor from gasoline, antifreeze, motor oil, salt, and hot tire pickup.
Pros
Cons
5Photo: amazon.com Check Latest Price
Consider this porch and patio paint from KILZ if you're looking for a product that applies easily over previously painted surfaces. This latex enamel has a special film that resists mold and creates a more attractive surface that's also safer to walk on.
A one-gallon can will cover between 200 and 300 square feet on rough surfaces, though smooth surface coverage can go as far as 400 square feet. It applies with a standard paint roller or brush and can also be sprayed on. The paint is dry to the touch in one hour, and a second coat can be applied in as few as four hours.
Keep in mind that this paint works well on a variety of surfaces, including concrete, masonry, wood, or metal.
Pros
Cons
6Photo: amazon.com Check Latest Price
If you're looking for wall paint for your basement's concrete block walls, you might like the look of this option from Giani. An water-based acrylic paint, it comes as a concentrated formula that you can mix with water to achieve up to 100 square feet of coverage.
Depending on your desired result, Giani suggests three different water ratios to create the perfect whitewash effect. Whichever you choose, you can apply it with a brush and roller like standard latex paints, though you can also wipe the surface with a rag to create the whitewashed look. Cleaning is simple with soap and water.
Pros
Cons
Our Verdict
The best concrete paint spruces up surfaces and protects them from stains—and protects the people who walk on those surfaces from slipping. The top pick, INSL-X Sure Step Acrylic Anti-Slip Paint, is durable, easy to apply, and adds skid resistance to surfaces. For a longer-lasting finish on heavy-traffic areas like garage floors, choose an epoxy, like the Rust-Oleum EPOXYSHIELD on our list.
How We Chose the Best Concrete Paints
We looked at paint types and features to analyze top picks for painting concrete for different intended uses or locations around a home. An epoxy paint is tougher and lasts longer, but many concrete paints come in acrylic, or water-based, formulas for easy application and cleanup. We also considered a paint's weather resistance, longevity, and if it could be used indoors and out, plus extra finish features like chips in epoxy, whitewash effects, or stain vs. opaque paint. We also looked at how easy a paint is to maintain or keep clean.
FAQs About Concrete Paint
If you still have some questions about choosing, applying, or maintaining the best concrete paint, this section will help. Here you'll find the most frequently asked questions and answers about concrete paint. If you don't find your answer here, you can contact your paint manufacturer's customer service department.
Some concrete epoxies are waterproof, but most concrete paints meant for exterior use are water-resistant, though they will wear down over time. Permanent waterproofing requires a rubber coating.
Concrete paint can be dry to the touch in as little as an hour but could take up to six or eight hours to completely dry. When it comes to garage floors, the paint also needs to cure, or harden, before you can park a car on it.
You can remove concrete paint with a paint stripper and a pressure washer. Apply the paint stripper according to the directions and allow it to loosen the paint before scraping and scrubbing the paint. Pressure washing the surface will remove any loose paint before you apply a second treatment of stripper.
Latex paints can last around two years before needing a fresh coat. Epoxies can last much longer, especially if you go the extra mile and maintain them with regular waxing and buffing.
Why Trust Bob Vila
Bob Vila has been America's Handyman since 1979. As the host of beloved and groundbreaking TV series, including This Old House and Bob Vila's Home Again, he popularized and became synonymous with "do it yourself" home improvement.
Over the course of his decades-long career, Bob Vila has helped millions of people build, renovate, repair, and live better each day—a tradition that continues today with expert yet accessible home advice. The Bob Vila team distills need-to-know information into project tutorials, maintenance guides, tool 101s, and more. These home and garden experts then thoroughly research, vet, and recommend products that support homeowners, renters, DIYers, and professionals in their to-do lists.
Tom Scalisi is a freelance writer specializing in the home design, construction, tools, and automotive industries. He has been involved in the trades for over 15 years as both a contractor and a commercial building mechanic. In addition to his professional life, Tom enjoys getting outside on his mountain bike, camping, beekeeping, and fishing. Tom is also an avid racing and baseball fan. He lives in NY's Hudson Valley with his wife, their three children, and three dogs.