Photo: Glenda Taylor
Indoors and out, concrete lasts longer and performs better with some protection—which is what today's concrete sealers are designed to do. These products provide a vital layer of defense against the possibility of unsightly staining and scuffing on concrete surfaces like countertops and patio pavers. Applying concrete sealer can help stave off long-term damage from moisture and chemical intrusion, but there are different types available, and some perform better than others. To see which ones live up to the hype, we sealed both concrete pavers and a concrete countertop with popular products, then tested their performance against moisture, grease, dirt, and ice-melt chemicals.
The best concrete sealer for you will work where intended and create your desired finish. A penetrating product offers nearly invisible protection, while a film-forming concrete sealer gives a smooth, durable finish. Some sealers even offer a tint for uniform color, similar to concrete paint. Read on to learn what to look for when shopping for the best concrete sealers and find out how each of the following sealers earned a spot in this lineup. Note: Not all the products we tested met our standards and made it to this list, so you'll also see what sealer was a major disappointment.
ALSO TESTED:
Photo: Glenda Taylor
Types of Concrete Sealers
When choosing concrete sealers, it's helpful to know the range of available options. Each type of sealer has qualities that help it excel in different applications, so the following information breaks down some of the most important characteristics of concrete sealers.
Penetrating sealers seal the pores of concrete below the surface. They form a chemical barrier that shields against intrusion by moisture and chemicals such as ice melt products.
Most of these sealers provide invisible protection without changing the appearance of the surface. They are typically breathable as well, allowing moisture vapor to escape. Penetrating sealers are a great choice for driveways, sidewalks, patios, and other outdoor locations because they provide excellent protection against harsh weather.
Penetrating sealers protect exterior concrete surfaces against freeze-thaw damage and corrosion. These products cure in less than 24 hours to provide a natural-looking finish, providing excellent weather protection without making the surface slippery, changing the surface appearance, or leaving a sheen. They are easy to apply with a pressurized garden sprayer, a paint roller, or a high-volume, low-pressure (HVLP) sprayer.
Acrylic concrete sealers are either solvent-based or water-based formulations. These products are a good choice where simple application and low cost are important.
They form a thin, protective film that provides good protection from moisture and chloride penetration while still allowing water vapor to escape from the slab. Available in different sheen levels, acrylic concrete sealers can be used to enhance colored, exposed, or stamped concrete in either interior or exterior concrete surfaces. Outdoors, an acrylic sealer will be ultraviolet (UV) resistant and will not turn yellow.
Acrylic sealers can dry within an hour and take between 36 and 48 hours to fully cure, making them a good choice for projects that need to be done quickly. They can protect the surface and enhance the color of interior floors or protect against moisture and salt damage on exterior concrete surfaces.
Acrylic is usually thinner than epoxy or polyurethane, so it wears out faster and must be reapplied more often, usually about every 3 years. Solvent-based acrylics are a better choice than water-based for outdoor projects. Apply very thin layers with a pump sprayer or a roller.
Epoxy concrete sealers add a thick protective surface over the concrete for extended wear and abrasion resistance. This type of sealer is highly water repellent and adds a glossy finish, and it's available in clear or color tinted. It is significantly harder than acrylic, but it does not allow trapped moisture to escape from the concrete slab.
These durable sealers are often used for floors in high-traffic areas, such as garages and basements, or for concrete countertops. Epoxy sealers are subject to yellowing when exposed to UV light, so they are limited to interior use. Most are two-part products that must be mixed before application.
After mixing, the sealer must be applied immediately before it hardens. An effective application method is to pour the mixture onto the surface, spread it evenly using a squeegee, then smooth it with a lint-free roller.
Polyurethane concrete sealers provide a protective film that is twice as thick as acrylic but not as thick as epoxy. Available in either water- or solvent-based formulations and a range of sheen levels, polyurethane provides excellent abrasion and chemical resistance. It is suitable for both interior and exterior applications, where it provides a non-yellowing, transparent, and durable finish.
Polyurethane concrete sealers are used for floors in high-traffic areas, on concrete countertops, and to protect and enhance colored, exposed aggregate, and stamped concrete. Apply with a high-volume, low-pressure (HVLP) airless sprayer or a microfiber mop to lay down a thin, even coat.
What to Consider When Choosing the Best Concrete Sealer
Beyond just the type, there are other factors involved in making a decision about the best concrete sealer. To choose the best sealer for your project, consider the following.
Concrete sealers perform differently depending on the type of surface. A penetrating sealer is usually the best choice for high-traffic exterior concrete surfaces like driveways, sidewalks, and patios. In cold climates, silane or silane/siloxane blends are used because they hold up best against the abrasive effects of scraping and plowing. In warm climates, either silane/siloxane blend or acrylic will work well. Acrylic is best for decorative, high-gloss, and color-enhancing applications.
Concrete floors in basements, garages, and shops take a lot of abuse over time. Either water-based or solvent-based acrylic will provide a high degree of protection, but solvent-based usually lasts longer.
Concrete countertops must be sealed to avoid staining. This is an ideal location to use either an epoxy or a polyurethane concrete sealer. Both sealers cure to form a nonporous surface that can be wiped clean and sterilized, making them generally recognized as safe for food preparation. A sealed concrete countertop should not be used as a cutting board, however, since a sharp knife could scratch the surface.
Moisture and salt are two of concrete's biggest enemies, yet depending on your climate you may be dealing with both of these. Concrete's porous texture allows moisture intrusion that causes cracks during freeze-thaw cycles, requiring crack fillers to repair. Salt from ice melt, lawn chemicals, sea spray, and other sources corrode and weaken concrete. The best way to keep these elements from damaging your driveway, sidewalk, or patio is to apply a sealer that will keep them out.
For most exterior surfaces, a penetrating concrete sealer is the go-to type to block out moisture and chemicals. Penetrating sealers are safer in icy and wet environments—they do not change the concrete's surface texture, so they won't make it more slick. They are nearly invisible, so the concrete retains its original appearance.
Solvent-based sealers, including solvent-based acrylic, produce fumes called volatile organic compounds (VOCs) that can be irritating and harmful to skin and eyes. Long-term exposure to VOCs can lead to a litany of chronic health problems.
Water-based sealers emit few or no VOCs, so they are generally safer during application. For the best results, choose water-based sealers with the longest intervals between maintenance applications so that you don't have to handle the product as often.
Exterior concrete sealer finishes must be UV resistant, waterproof, and durable. It also is important that they allow moisture to escape and that they do not become slippery in winter and wet weather. A penetrating sealer is used for a nearly invisible finish, while acrylic can provide a range of sheen options.
Interior sealers are more likely to be used to enhance decor. While UV resistance is not required indoors, interior sealers must still be waterproof, although slab floors benefit from breathability. Choose acrylic for floors and either epoxy or polyurethane for countertops.
Acrylic concrete sealers offer a high degree of both durability and flexibility in terms of aesthetic appeal. This type of sealer is applied with a smooth, clear finish and offers a range of sheens from matte to glossy.
Epoxy concrete sealers are the most versatile product for protecting concrete countertops. Epoxy provides a thick, extremely durable, glossy finish with either a clear coat or a variety of color options.
Most concrete sealers can be sprayed on with either a garden-style pump sprayer or a high-pressure, low-volume (HPLV) sprayer. They can also be applied with a lint-free paint-and-stain roller. Epoxy, which requires thoroughly mixing resin and hardener before application, is spread with a notched squeegee and finished smooth with a lint-free roller.
Our Top Picks
Anyone ready to seal a concrete driveway, a floor, or countertops might be eager to find out how the following concrete sealers fared in our hands-on tests. We applied the sealers to concrete pavers and a concrete countertop in a temperature-controlled shop. After curing, the sealers were exposed to a host of everyday situations that they would most likely encounter in the real world.
1Photo: amazon.com Check Latest Price
Foundation Armor AR350 Solvent-Based Acrylic Concrete Sealer met and exceeded our expectations, earning the best overall spot. We were sealing a small 1-foot-by-1-foot concrete paver, so we used a brush to apply AR350 evenly to the surface. It went on smoothly and self-leveled within seconds to form a uniform coating. In 24 hours, it was completely dry, yet it retained a hint of sheen, giving it an attractive finish that gave depth and richness without changing the color of the concrete.
We then put the sealed paver outside in harsh winter weather where it was subjected to freezing weather, ice, harsh UV rays, mud, grease, and chemical ice melt for 3½ weeks. We also sprinkled sand on the surface and stepped on it to see if it would leave scuff marks. At the end of the testing period, we power-washed the paver, let it dry, and inspected it carefully. The AR350 came through with flying colors. The finish still looked fresh, and there were no signs of staining, dulling, or peeling. Water beaded rather than soaking into the surface.
Foundation Armor AR350 is a breathable, non-yellowing, solvent-based acrylic. It darkens concrete and pavers to give them a wet look with a durable, low-gloss finish that brightens dull or faded surfaces. It can be applied to either unsealed concrete surfaces or those previously sealed with a solvent-based acrylic sealer.
This acrylic concrete sealer helps reduce damage and deterioration caused by surface abrasion, freeze-thaw cycles, and chemical exposure. It resists peeling, flaking, cracking, and pitting. This product is suitable for indoor and outdoor applications, lasting up to 3 years on outdoor concrete surfaces and up to 7 years indoors before a recoat is needed.
Product Specs
Pros
Cons
Get Foundation Armor AR350 on Amazon, at Walmart, or at Lowe's.
2Photo: amazon.com Check Latest Price
Our tests showed that it isn't necessary to spend a lot of cash for a good quality concrete sealer. MasonryDefender Penetrating Concrete Sealer is a water-based silane/siloxane blend that provides long-lasting, breathable, waterproof protection. This is an optimal choice for concrete driveways, patios, and other outdoor applications where users don't wish to alter the surface appearance.
We brushed MasonryDefender on half of the paver and sprayed it on the other half. It went on easily and quickly penetrated the surface. After 24 hours, we moved the paver outdoors to weather the elements, and we applied grease, mud, ice melt, and sand. After 3½ weeks, we power-washed the paver and allowed it to dry. We didn't see any staining, although we did see a few tiny scuffs from the sand. We then poured a spoonful of water on the surface, which beaded up on top of the paver, proving that MasonryDefender was still repelling water.
The eco-friendly silane/siloxane blend bonds with the minerals for penetrating concrete and creating a long-lasting, invisible barrier against water penetration, staining, and chemical damage. Treated surfaces resist pitting and cracking. This product is easy to apply on clean concrete with a brush or a pump-up garden sprayer, and an application should last up to 5 years.
Product Specs
Pros
Cons
Get MasonryDefender Concrete Driveway Sealer on Amazon, at Walmart, or at Sears.
3Photo: amazon.com Check Latest Price
Inside this space-age silver bottle is an excellent water-based, low-VOC penetrating concrete sealer. Siloxa-Tek, manufactured by Ghostshield, can be applied in several ways—we opted to use a brush, painting the sealer on a clean, dry concrete paver. It soaked in so quickly, we wondered how it could create a protective seal—but it did. After the Siloxa-Tek cured for 24 hours, we set it outdoors and subjected it to the elements, mud, grease, de-icing salts, and rubbed-in sand over the next 3½ weeks. By the time testing was done, the paver was pretty grimy, but it cleaned right up with the power washer. After allowing it to dry completely, we performed the water test, and the water beaded up on the surface.
This sealer won't change the look of the concrete, and it's also designed to protect from mold and mildew growth (we didn't have an opportunity to test for that, however). We only applied a single coat for testing purposes, but the manufacturer recommends two coats for the best protection.
Product Specs
Pros
Cons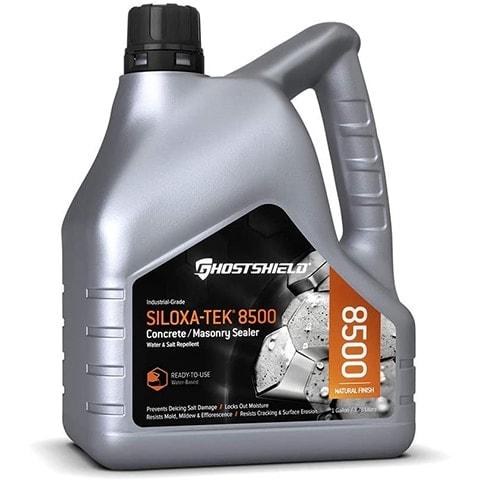 Get Ghostshield Siloxa-Tek 8500 Concrete Sealer on Amazon, at The Home Depot, or at Lowe's.
4Photo: homedepot.com Check Latest Price
Eagle Armor Seal is one of a handful of interior concrete sealers we tested. When brushing it onto our paver, the liquid sealer looked a lot like milk, but within 30 minutes, the whiteness cleared up and we began to see a sheen. This product is designed for indoor concrete, which often has a smooth surface, so since our testing paver was more porous than a typical interior concrete floor, we added a second coat after waiting the recommended 4 hours.
After 48 hours, when the Eagle Armor Seal product had completely cured, we started our tests. Rather than move the paver outdoors, we kept it indoors and exposed it to fairly heavy foot traffic after sprinkling it with sand and didn't notice any scuffing. To test its stain resistance, we put a few drops of various liquids on the surface, including red wine, orange juice, chicken broth, and Italian salad dressing. Each of the fluids beaded up without soaking into the concrete. We allowed the fluids to dry in place, then used an all-purpose floor cleaner to wipe them up. No stains were left behind—pretty impressive!
During the 3½ weeks of testing, we frequently wiped down the paver, using various household floor cleaners, and the surface sheen did not dull in the slightest. The paver looked just as good at the end of the testing as when it was first coated.
Product Specs
Pros
Cons
Get Eagle Armor Seal at The Home Depot, on Amazon, or at Lowe's.
5Photo: amazon.com Check Latest Price
The TotalBoat Epoxy Resin Kit is a two-part epoxy resin and hardener system that provides a crystal clear, durable, smooth film with a high-gloss finish. This epoxy is BPA-free, contains no VOCs, and is food safe when cured.
We tested TotalBoat epoxy on a concrete paver, but we didn't expose it to the outdoor elements because this product is only for indoor use despite the word "boat" in its title. We poured equal amounts of both Part A (resin) and Part B (hardener) into a clean plastic container and stirred with a clean paint stick for about 5 minutes. The trick to a successful epoxy coating is to stir slowly, which will make absolutely sure it's well blended without incorporating air.
We covered the work table with newspaper and poured the blended TotalBoat Epoxy evenly over the paver. It gradually self-leveled (in about 1 minute) and the excess ran over the edges of the paver. We didn't brush it or manipulate it in any way. A few bubbles formed on the surface, which is common when sealing porous concrete because air escapes and the bubbles are trapped in the epoxy. To remedy this, we used a small culinary torch to just slightly heat the epoxy, which popped the bubbles and left a flawless glass look. We left the paver to cure for 24 hours before starting our tests.
We used a dropper to put various liquids on the surface, including red wine, orange juice, chicken broth, and salad dressing. They did not soak in. When the liquids dried, we sprayed on an all-purpose cleaner and wiped them off, and there was no staining. We did not perform the sand abrasion test since we knew that epoxy can be scratched. TotalBoat's epoxy did not yellow in the time we tested it, but keep in mind that it's not heat resistant, so it's not the best choice for sealing a kitchen countertop; hot pans should not be set on it. When blended correctly and poured on, TotalBoat's epoxy forms a protective, glassy surface that showcases what's beneath.
Product Specs
Pros
Cons
Get the TotalBoat TableTop Epoxy Kit on Amazon or at Walmart.
6Photo: amazon.com Check Latest Price
Seal-Once Nano + Poly Concrete and Masonry Sealer combines proprietary penetrating nanotechnology with polyurethane to provide durable, long-lasting protection. It penetrates concrete pores to protect against water damage with a stable, water-resistant shield inside the concrete surface. It claims to prevent efflorescence, cracking, spalling, mold and mildew growth, lime bloom, and freeze-thaw damage.
We liked the eco-friendly aspects of Seal-Once, which is safe around children and pets when completely cured. It does have a bit of an odor, however, and we had to open the windows in the shop to air out the smell during application to a concrete paver. We used a brush to apply the sealer, which was milky at first but cleared up as it dried. After 24 hours, a film was visible on the paver, but it was attractive—it didn't change the color of the concrete, just added a uniform finish. We took it outside and ran it through a battery of tests, including mud, grease, de-icing salts, and rubbed-in sand. What's more, this specific paver happened to be sitting on the ground near a downspout, and when we got freezing rain, the water covered it and froze about an inch thick on top. We couldn't have planned a better ice test!
After testing, we power-washed the paver and noticed a bit of dulling where the de-icing salts were applied. We double-checked the specifications and found that the manufacturer does not guarantee protection from chemicals. Water still beaded on the surface and didn't soak in, making this sealer well suited for use on concrete where de-icing chemicals will not be used. In addition to penetrating the concrete to coat its internal pores, Seal-Once Nano + Poly creates a durable surface coating that protects against UV fading, wear and tear, and water damage.
Product Specs
Pros
Cons
Get Seal-Once Nano + Poly on Amazon, at The Home Depot, and at Walmart.
7Photo: amazon.com Check Latest Price
Of all the sealers we tested, Eco-Tuff Clearcoat Concrete Sealer was the only one that had no odor at all—it was great that we didn't have to open our shop windows when it was 15 degrees Fahrenheit outside. This sustainable, nontoxic sealer is plant-based, VOC-free, and contains no Red List chemicals. (The Red List is a collection of harmful-to-humans chemicals and building materials assembled by the International Living Future Institute to create awareness and promote healthy alternatives in building construction.) When it was brushed on the paver it was slightly milky but dried to a clear, non-shiny finish.
After the sealer dried, we took the paver outdoors and subjected it to the same tests. We noted a bit of scuffing from the rubbed-on sand, but we'd rubbed pretty aggressively and didn't put on multiple coats as recommended. We felt it wasn't a big drawback because the sealer kept the grease, mud, and de-icing salts from staining, and water still beaded up on the surface after the paver was cleaned and dried.
This particular sealer can also be used over water-based paint on several surfaces and may be mixed with decorative chips, mica flakes, or nonskid powders for improved traction. It's made with bio-polyurethane that provides excellent surface resistance to water, UV rays, chemicals, scratches, and heat.
Product Specs
Pros
Cons
Get EcoProCote Eco-Tuff Clearcoat Sealer on Amazon.
8Photo: amazon.com Check Latest Price
After a second Foundation Armor pick made our lineup, we can confidently say that we are now steadfast fans of this manufacturer. Foundation Armor's SX5000 Water-Based Penetrating Concrete Sealer is a silane/siloxane blend with up to 10 times more active ingredients than the competition. It is a breathable sealer that allows moisture to escape from the concrete while reducing moisture absorption through the surface by 95 percent. It works below the surface without changing the look or color of the concrete.
We sprayed the SX5000 on a clean, dry paver, and it quickly spread and saturated the surface. It soaked in so rapidly that using a brush would not have achieved the same uniform application. The sealed paver was taken outdoors and subjected to the same tests as the others, and it came through with flying colors. After power-washing, we found no traces of staining, scuffing, or dulling. Water beaded up immediately on the surface of the paver.
This water-based, low-VOC, high-solids sealer can be applied to unsealed interior or exterior surfaces of vertical and horizontal concrete, brick, pavers, flagstone, and slate. Indeed, the U.S. Department of Transportation approved and used the product in several states to protect roadways and bridges against water-absorption and freeze-thaw damage. It applies quickly and easily with a garden sprayer or a roller. Protection lasts for up to 10 years before needing to be reapplied.
Product Specs
Pros
Cons
Get Foundation Armor SX5000 on Amazon, at The Home Depot, and at Lowe's.
9Photo: amazon.com Check Latest Price
Tuff Duck was the only concrete sealer we didn't test on a concrete paver. That's because we had an unsealed concrete countertop that we hadn't gotten around to finishing, so this presented the perfect opportunity to seal it and evaluate the product.
Tuff Duck brushed on milky but dried to a semi-gloss. Though we were expecting a matte finish, we found the sheen attractive. We didn't have a microfiber pad to apply the product, which is the recommended tool, but while the sealer was still wet, we lightly rolled over it with a smooth microfiber roller, which smoothed out brush marks. When the sealer dried, the surface was very even.
Tuff Duck is a countertop product, so we tested it by putting drops of red wine, salad dressing, chicken broth, and orange juice on the surface, and allowing them to dry. After 24 hours, we sprayed on an all-purpose kitchen cleaner and wiped the dried-on liquids away. Then, we wiped down the countertop using several different household cleaners over the following weeks. No stains or dulling were evident. We also tested with plain water, which beaded up nicely and didn't soak into the surface.
Product Specs
Pros
Cons
Get Tuff Duck Concrete Countertop Sealer on Amazon or at Walmart.
Though we had high hopes for Rain Guard Micro-Seal Penetrating Concrete Sealer, it didn't live up to our high standards. Micro-Seal is intended to prime and seal concrete and masonry before painting, and the suggested method of application is by spray. We filled our sprayer, but it clogged after just a few spritzes. So we strained the sealer through a large coffee filter to remove the tiny bits that had obstructed the nozzle and were then able to use it in the sprayer.
The product dried blotchy, but we continued testing and, at the end, when we power-washed, the sealer peeled off in flakes. We don't know exactly what the problem was—whether the product had expired or perhaps had been exposed to extreme temperatures at some time during the storage/shipment process that caused it to break down. Our experience might have been a fluke, so we don't want to give the wrong impression of the overall quality of the sealer, but judging by the product we received, we cannot recommend it.
Our Verdict
While any of the concrete sealers that earned a spot in our lineup are among the best choices for sealing several types of concrete—both indoor and outdoor—Foundation Armor AR350 takes the top slot with its rugged yet attractive finish that gives concrete a wet look. Our budget pick, MasonryDefender Penetrating Concrete Sealer, provides durable protection from the elements at a very reasonable price.
How We Tested the Best Concrete Sealers
We extensively tested each concrete sealer and awarded points based on its performance. For our testing purposes, we used a scale from 0 to 4, with 4 being the best. For example, if a paver we'd treated with a sealer resisted oil and stains very well, we awarded it 4 points. If it resisted stains moderately well, it got 2 points. If it remained stained even after power-washing, it received 0 points.
In addition to testing resistance to staining, we noted how well each sealer's finish held up to freezing rain, ground-in sand, de-icing salts, mud, grease, and finally, power-washing. Admittedly, concrete sealers are supposed to last a year or longer, and we didn't have that much time to test. We only had 3½ weeks, so we didn't pull any punches, exposing the sealers to extreme testing procedures to see how well they held up.
Concrete sealers meant for indoor use were not tested outside. Instead, the pavers remained inside and were treated to the same types of events they would typically encounter—spills, stains, and all-purpose cleaners—and then we awarded points based on their performance. We're very confident that the sealers that withstood our testing are among the best options for protecting various indoor and outdoor concrete items.
The Advantages of Owning Concrete Sealer
Whether it's new construction, a renovation, or after a deep cleaning, consider applying a coat of concrete sealer to finish the job. Combined with general wear and tear, unsealed concrete can be subject to damage due to freezing, thawing, and salt exposure.
Plus, unsealed concrete can easily become host to moss and mold, which can further weaken it. Cracks, delamination, and other structural problems develop much more easily in unsealed concrete. Concrete sealer repels moisture that otherwise would lead to long-term damage. A sealed concrete driveway can last up to 30 percent longer than an unsealed driveway.
Another benefit of applying concrete sealer is that it protects the colors and ornamental details of stamped, tinted, and exposed aggregate concrete. It resists the staining from chemicals, rust, petroleum products, and hard water that can affect unsealed concrete. It also is faster and easier to clean sealed concrete.
FAQs
If you're planning a concrete-sealing project, you may still have a few questions about buying and using these products. Keep reading for the answers to several frequently asked questions about choosing and applying concrete sealer.
There are several variables to consider when choosing the right concrete sealer for a project. As a general rule, sealing concrete driveways should be done with penetrating sealers, indoor floors with acrylic sealers, and concrete countertops with either an epoxy sealer or a polyurethane sealer. Note the differences among these types described in detail in this article.
In most cases the best way to apply concrete sealer is with a high-volume, low-pressure (HVLP) or airless sprayer. They can handle virtually any sealer and provide optimal control. They also allow the user to cover large areas quickly and efficiently.
Rolling with a ¼- to ⅜-inch nap roller is doable with many water-based and solvent-based sealers. It becomes less effective on rough or textured surfaces and with sealers that have a solids content above 35 percent.
No, you should not apply concrete sealer over old sealer. The old sealer should be worn or stripped away and the surface thoroughly cleaned before applying a new coat.
The best way to apply most concrete sealers is with a HVLP or an airless sprayer.
Yes, concrete sealer does wear off over time. When water no longer beads up on a penetrating sealed surface, typically after about 1 to 10 years, depending on quality, it is time to reseal. When acrylic, polyurethane, or epoxy begins looking worn and dingy, which is usually after about 3 to 5 years, it is time to reseal.