Photo: istockphoto.com
Serving to extend a home's living area for personal downtime and festive gatherings, a deck sees a ton of traffic and takes a beating from the elements even when not in use. So if you're noticing aged wood or peeling paint, it's probably time for a fresh finish—the sooner, the better. Why? The longer you wait to paint the deck, the more flaws it will develop, making maintaining the deck that much more difficult.
Deck paint provides protection, hides flaws, and since it's available in a wide range of colors, can make a deck stand out or blend in by contrasting or matching the home's exterior. The best deck paint is one that can stand up to harsh outdoor conditions, such as blowing dirt, wind, rain, and temperature extremes. Keep reading to learn how to choose the best deck paint for old wood and what makes these products some of the highest-rated options on the market.
Photo: istockphoto.com
What to Consider When Choosing the Right Deck Paint
Choosing a wood deck paint is about more than just buying exterior paint and rolling it on. According to Jolene Jantz, Paint Advisor for Jantz Lumber and Do-It Center in McPherson, KS, DIYers should first make sure the paint is meant for horizontal surfaces.
Jantz explains that many exterior paints and enamels will withstand the elements, but only when they're applied to vertical surfaces. However, a deck paint must be specially made for applying to horizontal surfaces. "The can should say that the paint is made for horizontal surfaces if it's suitable for use on a deck," Jantz said.
After that, additional considerations include the type of wood, the kind of prep work required before painting, and the desired look of the finished project.
Deck paint comes in two main types: oil-based and water-based, and each type has a few pros and cons. While oil-based paints once ruled the market, water-based products are in greater demand today, due to improved durability and ease of use.
Oil-based deck paints have been around for decades and, until the past decade or so, were considered the best paint for decks and other exterior projects. They're still a durable and affordable option, but also have some less desirable features. An oil-based deck paint:
Water-based deck paints, including acrylic paints and latex paints, have come a long way in recent years and are considered just as good as oil-based paints by many experts. Today, these paints are available in a host of colors and optional ingredients that help protect exterior wood. A water-based deck paint:
With the trend toward consumers using fewer toxic products, paint manufacturers are busy finding ways to manufacture quality paints with lower volatile organic chemicals (VOCs). VOCs are the harmful gases emitted by these products, and some may cause health problems. Deck paint with lower VOC content is labeled as being either "Low-VOC" or "Zero-VOC."
Some wood species, such as redwood and cedar, are naturally resistant to moisture damage, rot, and insect infestations, but they're typically very pricey. As a result, most exterior decks are constructed from treated lumber. This wood is usually yellow pine or Douglas fir infused under pressure with alkaline copper quaternary (ACQ) to resist the elements. However, this popular lumber is often newly treated when it reaches the lumberyard and hasn't had sufficient time for the ACQ chemicals to evaporate out of the wood.
Experts recommend waiting at least 6 months before painting a new, treated-wood deck to ensure these chemicals evaporate completely. If you paint a deck before the chemicals evaporate, the paint may not adhere, resulting in cracking and peeling.
When it comes to standing up to the elements, the deck paint you choose must be labeled as exterior paint, ensuring it's suitable for outdoor use. Steer clear of interior paints, which don't have adequate weather- and fade-resistant qualities.
The adage "You get what you pay for" is true when it comes to paint. High-quality paints contain better binding agents and longer-lasting pigments, such as titanium dioxide, that make the color less likely to fade or peel.
Manufacturers often have three paint lines: Good, Better, and Best. Products in the Best line may be twice the cost as those in the Good line, but they are more durable. Higher quality paints are also thicker, which means a gallon of Good paint will cover more square feet than a gallon of Best paint, but the Best paint will leave a thicker, more durable coating on the deck. The general rule is to buy the highest quality paint available because it will last longer and protect the wood more efficiently.
Look for these qualities:
Because they're intended for exterior use, most deck paints contain additives to protect the deck from mold and mildew, harsh UV rays, and temperature extremes. While you can choose paints with one or two of these additives, it's often a good idea to opt for a product with all three for the best protection and longest-lasting color.
Wet and rainy climates contribute to deck paint failure because if moisture seeps into the wood beneath the paint, it can loosen the bond between wood and paint, resulting in peeling. To reduce this risk, paint all sides of the deck boards—even the bottom, if possible—to seal the wood and keep moisture out. If the deck sits low to the ground, making it impossible to paint the underside, consider using a penetrating deck stain, rather than a deck paint. When choosing between paint or stain, keep in mind that stain will seep into the wood grain itself.
Both oil-based and high-quality water-based deck paints resist fading, but deep colors and bright tones tend to fade more quickly than light hues and earthy tones. Dark, bright colors require a higher percentage of pigments to bring out the color. Adding higher levels of pigment can reduce the quality of the main ingredients because they become more diluted. Paint manufacturers are constantly working to improve color durability, and today's paints are more colorfast than those of a couple of decades ago.
The location of the deck is also a consideration when it comes to choosing a color. A deck with no shade protection during the day will fade more quickly than a deck located in deep shade, even if the paint contains UV protection.
Deck paint is available in different surface finishes, depending on the percentage of gloss ingredients in the formula.
Decks, steps, and porches can often become wet and slick in inclement weather, especially if they surround a swimming pool or are otherwise frequently exposed to the elements. In addition to selecting a color, consider whether nonslip paint is more suitable for your deck. A good number of deck paints contain ingredients, such as fine silica sand, that create a slightly textured surface to increase traction and reduce the risk of slipping.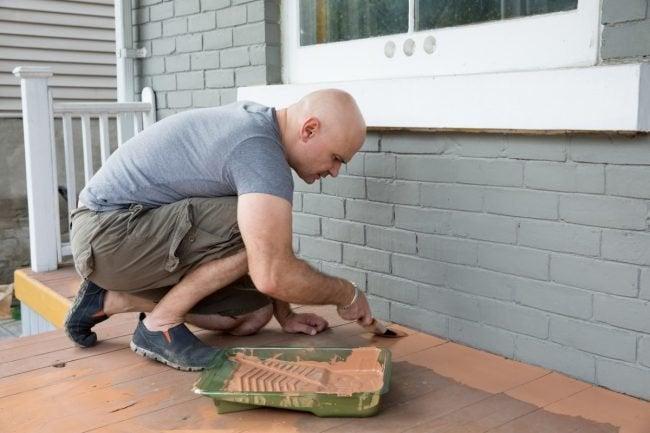 Most oil-based deck paints take longer to dry than water-based options, which can be as long as 6 to 24 hours, depending on the individual product. Water-based paints dry more quickly, some in as short as 1 to 2 hours. However, temperature and humidity will affect the dry times of both types of paint.
Many deck paint manufacturers suggest applying paint when the outdoor temperature is over 50 degrees Fahrenheit but no higher than 80 degrees Fahrenheit. Temperatures lower than 50 degrees could cause either type of paint to dry more slowly. In temperatures higher than 80 degrees, especially on a dry, sunny day, the paint may dry too quickly. This result is the ingredients not binding as well as they should, reducing the quality and endurance of the paint.
Recoating time is slightly longer than drying time. In general, allow an additional 24 hours after oil-based paint dries before recoating, and allow 4 hours after water-based paint dries before applying a second coat.
Readying a deck for paint is essential for a quality project. According to Jantz, "It's the single most important part of learning how to paint a deck." Prepping involves the following steps:
Our Top Picks
To qualify as a top pick, deck paint should be durable and withstand the elements. It should also contain quality ingredients and additives that block UV rays for decks that receive a lot of sun. Buyers in humid regions should look for deck paints with mold- or mildew-resistant properties. The following deck paints are all designed for various outdoor climates and needs, but each is a standout in its class.
1Photo: amazon.com Check Latest Price
For a fresh new look and anti-slip protection that lasts, consider TotalBoat TotalTread Non-Skid Deck Paint to create a rugged textured surface that's suitable for decks, patios, and more. TotalBoat paint imparts a high-traction, low-sheen finish (similar to an eggshell finish) that won't crack or peel. It also features UV blockers to prevent fading. Buyers can choose from four attractive colors.
This durable deck paint is tough enough to use on boat decks, which are often subject to wet conditions. However, unlike some textured deck paints, which include silica sand and are rough on bare feet, TotalBoat paint imparts a comfortable, rubbery feel. Apply this paint with a brush or a roller; two or more coats are recommended. One gallon covers up to 300 feet.
2Photo: amazon.com Check Latest Price
Those looking to update a deck with an anti-slip coating that doesn't cost a fortune need look no further than INSL-X Sure Step Anti-Slip Paint. This acrylic deck and porch paint provides a high-traction surface at an affordable price. It is available in a variety of attractive colors and fills and seals minor cracks in decking, making it well suited for high-traffic decks, steps, and walkways.
For best results, apply Sure Step with a paint roller, due to its textured formula. It dries quickly to provide a tough surface, with a flat/matte finish that resists abrasion and will stand up to water puddles without damage. One gallon covers up to 120 feet, depending on the porosity of the wood.
3Photo: amazon.com Check Latest Price
For an environmentally responsible paint that still offers plenty of resistance to mold, mildew, and damaging UV rays, consider Montage Signature Interior/Exterior Eco-Friendly Paint. This paint is suitable for use on indoor or outdoor floors and decks. It's available in either semi-gloss or low-luster sheens and comes in 18 pleasing gray and earth tones. This water-based, low-VOC paint is free of toxic fumes and can be applied with a brush, roller, or sprayer.
When dry, Montage Signature paint is durable, scrubbable, and can last up to 10 years before recoating is necessary. One gallon of this eco-friendly paint will cover up to 300 square feet. With this product, cleaning up calls for nothing more than soap and water.
4Photo: homedepot.com Check Latest Price
Decks in rainy regions or in the direct path of a sprinkler system will benefit from a deck paint that creates a tough, waterproof surface. Designed to protect against mold, mildew, fading, and direct water exposure, BEHR Premium Advanced DeckOver creates a smooth, nonslip, eggshell-like finish. It fills and conceals small cracks in decking while creating a rock-hard surface that resists cracking and peeling and stands up to heavy foot traffic.
For best results, use a roller to apply two coats of this water-based deck paint and resurfacing product. One gallon will cover up to 75 square feet.
5Photo: homedepot.com Check Latest Price
Update that deck in always-popular slate gray with a gloss finish using BEHR's Gloss Enamel Porch and Patio Floor Paint. This enamel deck paint provides a polished sheen that will dress up any deck. It's also suitable for use on both interior and exterior wood and concrete floors. The water-based deck paint resists cracking, fading, and mildew, and it's designed to hide imperfections in the decking, such as small cracks.
Apply this paint with a brush, roller, or sprayer. A minimum of two coats is suggested for the best surface shine and durability. One gallon covers up to 400 square feet. Tool cleanup is a snap with just soap and water.
6Photo: amazon.com Check Latest Price
Nonslip safety is a top concern around pools, and FIXALL Skid Grip Anti-Slip Paint produces a textured, high-traction flat finish on wood, stone, and concrete. It exceeds the Americans with Disabilities Act (ADA) standards for anti-slip surfaces. This water-based paint is available in a range of attractive colors that complement landscape decor, and the coating resists fading, chipping, and peeling.
FIXALL paint offers superior adhesion and can be applied with either a brush or a roller. Cleanup is simple using warm, soapy water. One gallon covers up to 80 square feet, depending on the porosity of the wood. For the best results, two coats are recommended.
7Photo: homedepot.com Check Latest Price
Choose pure white, or have BEHR Premium Low-Lustre Enamel Porch Paint custom tinted to any desired color via BEHR's computerized color matching system. This quality deck paint features exceptional adhesion and is formulated to resist mold and mildew growth. The enamel forms a solid protective finish with a soft, muted sheen designed to keep its freshly painted look. The water-based paint is high-hiding, meaning it will help camouflage minor defects, such as cracks in the wood.
Apply this enamel paint with a brush or a roller over a coat of primer. One gallon of the enamel will cover up to 400 square feet, depending on the thickness of the coat. Two coats are recommended. This low-luster paint is also available in a gloss finish.
8Photo: lowes.com Check Latest Price
For updating decks that have seen better days, look no further than Cabot DeckCorrect Resurfacer in a flattering finish of satin gray. DeckCorrect paint goes on thick—thick enough to fill cracks and gaps up to ¼-inch thick—and bonds with splinters to keep them from poking up or peeling off. This water-based deck paint and resurfacing product is well suited for use on weathered and worn wood decking. It is designed to resist fading, cracking, and peeling.
DeckCorrect paint contains polycarbonate beads that provide a nonslip, textured surface. One gallon covers up to 75 square feet. For best results, two coats applied with a brush or roller are recommended. Cleanup is easy with warm, soapy water.
9Photo: homedepot.com Check Latest Price
For quick-drying and speedy recoating, consider this BEHR Premium solid color deck paint. While technically a stain, this deck coating imparts a solid opaque color, creating a full-coverage coating like deck paint. It comes in an attractive slate gray and acts as both coating and primer, so no additional primer coat is necessary. The finish is equivalent to a flat or eggshell sheen.
This BEHR Premium paint is suitable for use on both composite and wood decks. It offers waterproof protection and contains UV blockers to prevent fading. The water-based paint also contains mildewcide for added protection against mold and mildew. Apply with a brush, roller, or sprayer. A minimum of two coats are recommended. One gallon covers up to 400 square feet, depending on the thickness of the application. It is also available in a semi-transparent option.
FAQs About Deck Paints
With the cost of construction materials at an all-time high, it pays to protect a backyard deck to gain as much useful life from it as possible. A fresh coat of paint will help safeguard wood decks from UV damage, mildew, and water rot, but for those new to the idea of painting a deck, some questions are to be expected.
If you've previously painted the deck, it's best to repaint. For a new deck or an older deck that you've never painted, you can either stain or paint it.
You'll need to reapply deck stain every few years. Deck paint can last up to 7 years before a reapplication, depending on paint quality and the wood's condition.
Ultimately, the longevity of deck paint depends on the quality of the paint and the condition of the deck. However, in general, expect deck paint to last 4 to 7 years.
Final Thoughts
A fresh coat of paint will update the look of a deck and help protect it from the elements. A variety of deck paint options are available in a range of prices, but the best rule of thumb is to buy the best paint you can afford and prep the deck well for a long-lasting, high-quality finish.