Photo: istockphoto.com
Protect your fence from the elements and boost your home's curb appeal with a coat of paint. Whether water-based or oil-based, the best fence paint should prevent mold, mildew, and rot in wood and keep rust away from metals.
Newer paint formulas combine a primer with a top coat, cutting down on the labor and the cost of painting. Some of the best fence paint brands offer hard-wearing options that are less toxic and more eco-friendly, ensuring your painting project will be safe for you and the environment.
Photo: amazon.com
What to Consider When Choosing the Best Fence Paint
The best fence paint hides imperfections, enhances beauty, and ensures longevity for your privacy structure. These paints should also be easy to clean and complement your home's facade.
Fences are made of durable materials that stand up to weather and provide a sturdy barrier around your property, offering security and privacy. In general, fences are made of wood, metal, masonry, or man-made materials like polyvinyl chloride (PVC). The best fence paint for you will depend on the material your fence is made of and the condition it's in.
You may need to prep the fence before painting. Porous fence materials like wood, brick, concrete, and stucco can degrade over time, especially when subjected to changing temperatures. Any cracks, discoloration, mold, and mildew will need to be addressed before painting. Nonporous materials like metal, plastic, or vinyl are ultra-durable and typically won't rot, but they can rust, discolor, and suffer damage over time. Be sure to repair, clean, and prime your fence before applying paint.
There are three main types of paint formulas.
Latex paint is naturally breathable, won't trap moisture, and is less likely to crack than oil-based paint. It sits on top of the fence surface. Latex paint is often recommended for wooden or vinyl fences, masonry (brick, stone, and stucco), as well as siding and roofs. Some brands are formulated to contain a low level of volatile organic compounds (VOCs,) chemicals that are known carcinogens. Low-VOC latex paint is generally better for your health and the environment than other formulas.
Oil-based paint soaks into the surface, giving it excellent adhesion and stain-blocking abilities. It is slower to dry than water-based paint, but is longer lasting and dirt-resistant. Use oil-based exterior paint on metal fences to prevent rusting, stains, and discoloration. Oil-based paints are also a good choice if you want a glossy finish.
Wood stains are a good choice to protect and beautify new, freshly sanded wooden fences. They are oil-based stains, which are long lasting and slow to dry, but durable. On the downside, most oil-based paints and stains are not low VOC, so it's important to use them in a well-ventilated space or by wearing protective gear like goggles and a face mask.
When choosing the best fence paint, you also need to consider what finish will work best. Exterior paints come in four finishes, each with strengths and drawbacks:
Flat or matte paint finish is often used for house siding. A matte finish has a nonreflective surface that's low luster, so it hides surface imperfections. However, flat/matte finish paints are the least resistant to stains.
Satin or eggshell paints offer one level of sheen up from flat or matte. They're shinier and easier to clean than flat or matte paint. They're easier to keep clean because they resist stains, and they do a moderately good job of hiding surface imperfections.
Semi-gloss is a nice compromise between matte and gloss. Your fence will have a shiny look and really catch the light, but semi-gloss is one of the toughest finishes for standing up well towear and tear. It also does a great job of resisting stains.
Glossy paints create a hard, shiny surface that is ultra-durable and long-lasting. They're also highly resistant to stains and a good choice for metal fences. High-gloss paint highlights imperfections, so it wouldn't be a good choice for a rugged wooden or masonry fence.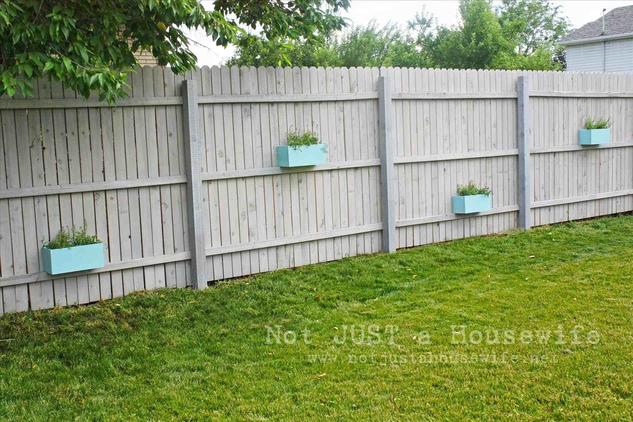 The color of the fence paint you choose should complement the color of your home's exterior. While fences and your home's exterior do not have to match, choose a color to enhance your home visually. Typically, painted fences are neutral in tone: black, white, or gray. Muted colors like brick red or deep green can also work. There are exceptions, of course, and if you want a sunflower-yellow fence, go for it. Just be aware your fence shouldn't overpower your home; it should add structure and define space. Also be conscious of upkeep and maintenance. While white picket fences are an American classic, they can be harder to keep clean than a fence painted black or light gray.
Depending on your fence material and type, you can apply paint with a brush, a roller, or a sprayer. Brushes and rollers are best for smooth, flat surfaces, with lots of square footage to cover. A paint sprayer is versatile and can be used to coat fences of all kinds, including metal and chain link. In general, apply two coats of paint to your fence so you get maximum beauty and protection from the elements.
Drying time for paint varies and it affects when you can apply a second coat. In general, water-based paints can be dry to the touch within one to two hours, so you can apply a second coat the same day. Oil-based paints and stains can take from six hours to several days to completely dry, so wait at least until overnight before applying a second coat. The exception is "quick dry" paint formulas, which can be ready for a second coat in 30 minutes to two hours.
Our Top Picks
The following list includes several top picks to consider depending on your project, budget, and color preferences.
1Photo: amazon.com Check Latest Price
Time-saving products that don't sacrifice quality are always a boon, and The ONE paint is just that. It mixes a paint and a primer into one labor- and cost-saving bucket. This quick-drying, high-quality paint is designed for use on a range of surface types, so you can use it on wood, metal, plastic, UPVC, brick, masonry, stone, glass, and more.
Thick and opaque, one coat gives a fence or a wall enough coverage to protect it from the elements and look good. It's a water-based acrylic, so cleanup is easy, and it has a low-VOC formula that's safe for the environment and your health. It comes in satin, matte, and gloss finishes and a range of neutral colors.
2Photo: amazon.com Check Latest Price
Ready Seal's oil-based stain gives your wooden fence the finish it deserves. It combines a tinted stain with a wood sealer, so you can add color and protection with one product. The stain is transparent, so it allows the wood grain and character to show through for a natural look. You can use it on unfinished surfaces as a first coat, or use it on previously stained surfaces for a refresh. Simply roll, brush, or spray this stain onto the surfaces; no diluting or thinning is necessary. Ready Seal doesn't require sanding or stripping for reapplication when it's time for a boost; just apply a second coat over the first—that's a big time saver.
3Photo: amazon.com Check Latest Price
Rust-Oleum has long been known for making high-quality paints that protect metal from the elements, and this product lives up to the company's reputation. This commercial formula stands out because it dries to the touch in just 15 minutes, and is ready for a second coat in an hour, making your project speedy. Plus, spray paint spares you the misery of cleaning brushes.
The high output spray tip on the can is multi-angle, so you can spray the paint from almost any angle, even while holding the can upside down. Each can covers up to 14 square feet, and there are six cans in this pack. The oil-based formula comes in 19 colors and can be used on ferrous and nonferrous metal, wood, concrete, and masonry.
4Photo: amazon.com Check Latest Price
If a white picket fence isn't your cup of color, Majic Paints has you covered. Majic offers a long-lasting satin finish paint in 12 bold colors like Golden Dandelion, Midnight Wave, and Sangria Red. This water-based paint resists scratches and the elements and can be used on most surfaces, including wood, metal, brick, drywall, glass, steel, tile, vinyl, aluminum, and most plastics, copper, and masonry.
The price is also right, especially for a paint that holds up to the elements so well. It also sticks to any surface without sanding or priming first.
5Photo: amazon.com Check Latest Price
Montage Signature paints are kind to your respiratory system as well as the planet. Not only are they low VOC, but they're also made from recycled paint. With this product, you won't be breathing harmful paint fumes, and you're keeping old paint from ending up in a landfill.
Montage Signature's water-based formula features an improved sealing technology that protects your fence or wall from mold, mildew, and the elements. It can be used on metal, wood or stucco and comes in 24 classic colors and two finishes: low sheen and semi-gloss. It's labeled for interior as well as exterior use.
6Photo: amazon.com Check Latest Price
This KILZ fence paint lives up to the brand's reputation for producing top-notch products for keeping moisture away from wood, stucco, and masonry. It has a water/oil-based formula that has the best traits of both: It's exceptionally durable; resists cracking, peeling, fading, and mildew; and you can clean up your brushes with soap and water when you're done.
It's fairly fast-drying, so your project is speedier. One coat will dry to the touch in two to three hours, and you can apply a second coat in six to eight hours. It's also self-priming, so there will be less work for you.
FAQs About Fence Paint
Know what you're getting into before you pop the lid and start painting. The best fence paint should work with the underlying surface, keeping it protected and lovely for years to come.
Not necessarily. A fence should complement the house color. You can attain this color harmony by choosing a neutral color for the fence that blends in with the landscape and works as a background or by choosing a bold color for the fence that makes it a focal point.
Yes, depending on the type of fence you have. If you have a picket fence, privacy fence, masonry wall, or other fence with large expanses of flat surface, a roller is the way to go.
Spray paint is usually the easiest method for applying paint to a chain-link fence.
It depends on the look you want as well as the surface type. Stains works well on new, unfinished wood as well as freshly sanded wood. Paint is better for older wood, metal, and masonry.
Paint can last for up to 10 years, while stain lasts one to eight years, depending on weather conditions and how often you reseal it.