Photo: amazon.com
Spray guns have a reputation for being tricky to use, but modern HVLP (high volume, low pressure) versions aimed at DIYers and hobbyists are easy to learn how to use and can dramatically reduce the time it takes to stain fences, finish furniture, or paint walls. They also help create a beautiful and even finish without brush marks or widespread splattering that rollers can cause.
With their growing popularity, several different types of HVLP spray guns are now available, so it can be challenging to know which is the right one to buy. To help solve that conundrum, the following is a detailed look at how to choose the best HVLP spray gun for a variety of materials, along with a list of some of the best options on the market, organized by category.
Photo: amazon.com
What to Consider When Buying the Best HVLP Spray Gun
HVLP spray guns fall into several different brackets. These make a considerable difference to their suitability for particular tasks. To help arm you with the information needed when shopping, the following sections include a range of technical and practical aspects, including how each type of HVLP spray gun functions.
HVLP spray guns can be divided into three basic categories: compact models, turbine models, and compressor-driven models.
Both turbine and compressor-driven spray guns need a hose to deliver air, but a short hose can prove restrictive. With professional models, it is possible to purchase a longer hose. However, that's not usually an option with turbine models, so it's an important feature to check before buying.
At the business end of a HVLP spray gun, there is the fluid nozzle or air cap with a central hole for the fluid to spray through. It also has two "horns" on either side that force air into the fluid stream and atomize it, turning it into a fine spray.
The size of the central hole is usually measured in millimeters, and it's extremely important as it determines the kind of material that can be sprayed. To get the best possible finish, it may need to be changed from one project to the next. Every stain, varnish, primer, and paint has its own viscosity, which indicates thickness of the liquid. Low viscosity (thin) materials like wood stain may only need a very small hole, perhaps 1 millimeter. High viscosity (thick) materials like latex paint need a larger hole, around 2 or 2.5 millimeters. Some car body primers need a 3-millimeter nozzle hole.
Some HVLP spray guns come with just a single general-purpose nozzle. While other compatible types are often available at extra cost, there are spray gun kits that include several different nozzles. Professional HVLP spray guns usually have a separate air cap, fluid tip, and fluid needle, which are all interchangeable. These components provide much of their advanced adjustability.
The fluid nozzle also will control the spray pattern. Professional HVLP spray guns have lots of adjustability, whereas DIY models tend to offer a choice of vertical, horizontal, and round patterns.
While the fluid nozzle controls the shape of the spray pattern, pressure control impacts the size of that pattern. More material is atomized with higher pressure, so a larger area is covered. Compact models often lack variable pressure control.
There's a second element to consider. If the pressure is raised and the fluid flow stays the same, there will be wider coverage with a thinner coat. To compensate, flow control is required. The flow control is usually on the spray gun, where it is easy to reach for adjustments.
None of these devices require special power considerations. They all can run off a household supply. With compact and turbine models, the wattage of the motor may need to be checked. Anything under 300 watts might struggle to move high viscosity material, and durability would also be a concern.
Noise is another issue. None of these machines are particularly quiet, though actual decibel ratings are seldom provided. Ear protection isn't necessary, but it is recommended if spraying for extended periods.
Cleaning HVLP spray guns is not a difficult procedure, but it can be time-consuming, as a certain amount of disassembly is necessary. Perhaps not surprisingly, compact models are the simplest to clean, and professional models are more complex to clean.
It's important that cleaning is done immediately after the spraying is finished. It needs to be done thoroughly, following the manufacturer's instructions. Any material that dries inside the gun, particularly around the fluid nozzle, can cause it to spit or clog. A bristle brush, which is usually included with the spray gun, can help with this. Complete aftermarket HVLP spray gun cleaning kits are readily available and inexpensive.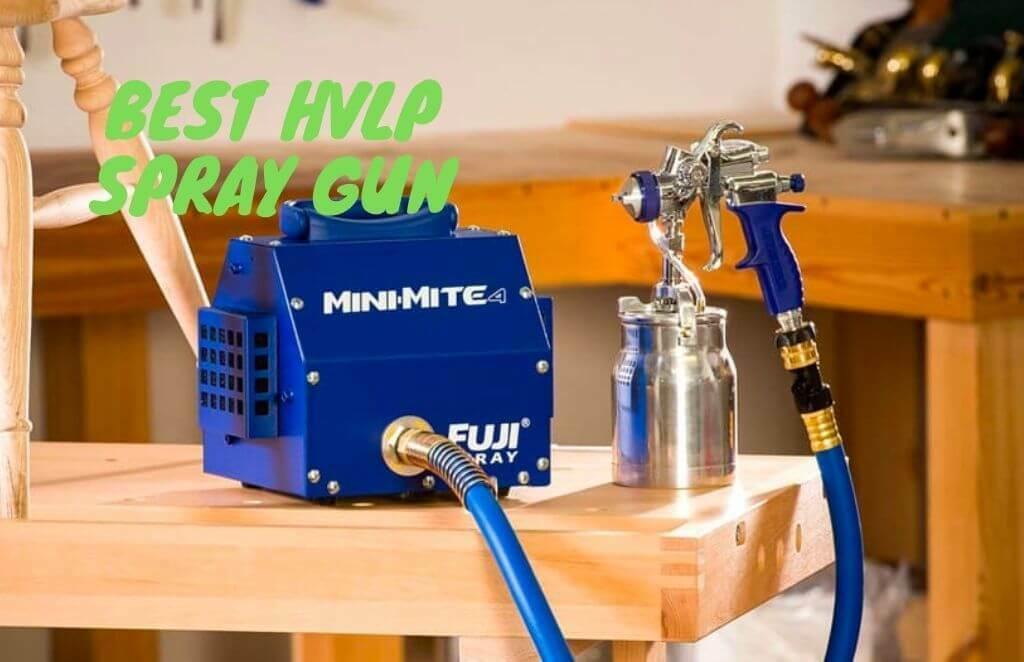 When not in use, it's a good idea to store an HVLP spray gun in a cupboard or cabinet where it won't get dirty or dusty. Gun racks are often used to store spray guns in professional environments, but there's little chance of dirt buildup problems, as these guns are typically used on a daily basis.
Our Top Picks
Now that you've had a chance to learn about the various facets that will impact your choice, it's time to check out some of the best HVLP spray guns on the market. These top picks offer a range of price and performance options, so there's something here to suit every kind of user. Each model is assigned to a category to help you quickly find the best HVLP spray gun for particular tasks.
1Photo: amazon.com Check Latest Price
It's not easy to pick a single best HVLP spray gun, but for its ease of use and all-around performance, versatility, and value, it's tough to beat this Wagner Spraytech model. It will spray all manner of stain, varnish, and most paints. It comes with a 1.8-millimeter nozzle, so latex may need to be thinned, but larger nozzles are available. It offers horizontal, vertical, and round patterns with easy adjustment of both air pressure and fluid flow.
The Wagner Spraytech comes with 20 feet of hose, so there's little issue of being cramped or constantly moving the turbine unit around. It only weighs 11 pounds and has a built-in handle, so it's very portable. Two paint cups are supplied: a metal one that holds 1 quart and a plastic one that holds 1.5 quarts. The Wagner Spraytech is among the quieter HVLP spray guns of its type and is easy to clean.
2Photo: amazon.com Check Latest Price
The NEU MASTER HVLP spray gun combines the power advantages of a turbine with the low cost normally associated with compact electrical guns. A 600-watt motor provides good performance and reliability, plus two interchangeable nozzles allowing a wider range of material usage than is usually found on budget spray guns.
There are three spray patterns: horizontal, vertical, and round. While air pressure is not adjustable, flow control is adjustable. The paint cup holds 30.5 ounces, a fraction under a quart. The 6 feet of hose seems a little restrictive at first, but the compact turbine can be fitted with a shoulder strap for increased mobility. The interesting interlocking head setup makes for easy cleaning.
The NEU MASTER HVLP spray gun is great value for painting and staining furniture, doors, and other medium-size projects, although it is not a tool for fine detailed work.
3Photo: amazon.com Check Latest Price
Compact handheld HVLP spray guns like the Rexbeti are frequently criticized for lack of performance and versatility. That's not the case here. The 500-watt motor provides plenty of power and a choice of four different fluid nozzles is included, from 1.5 to 3.0 millimeters. The nozzles can cope with anything from thin sealers to thick primers and latex paints (the latter may need to be thinned slightly).
With no turbine or compressor, it is easy to move around, though an extension cord will often be needed. The standard three spray patterns are offered: horizontal, vertical, and round. Compact HVLP spray guns like this never have air pressure control, but material flow is easily adjustable. The 1,000-milliliter paint cup is equivalent to just over a quart.
The Rexbeti sprayer also comes with a viscosity cup for checking material thickness, paint filters, and cleaning tools. It's a comprehensive and very affordable tool for all kinds of small projects.
4Photo: amazon.com Check Latest Price
The Master Pro is what's called a gravity feed HVLP spray gun. The paint flows from a 1-liter (1.05 quart) aluminum cup fitted above the gun. Air comes from a compressor that's fed up through the handle. Knobs at the back of the spray gun make fine adjustments to air pressure and fluid flow, allowing for precise control of spray pattern size. An air pressure regulator is included to manage air from the compressor.
The Master Pro comes with four needle/fluid tip combinations from 1.3 to 1.8 millimeters. While primarily targeted at automotive paints, a wide range of woodworking stains and finishes can be applied, including thinned latex paint. It's a gun that has the ability to spray materials over substantial surfaces quickly, or itcan focus on small areas when necessary.
This is not a cheap HVLP spray gun, and the need for a compressor will add to the price. When compared to similar high-performance models, it is very competitive and should provide many years of reliable service.
5Photo: amazon.com Check Latest Price
The Earlex HVLP Spray Station is compact, portable, and powerful. The metal gun and 1-quart paint cup offer both excellent durability and more consistent finishing because they aren't subject to fluctuations in air pressure that can affect plastic. Rather than a single fluid nozzle, this tool employs the fluid tip and needle setup found on professional spray guns. It allows more precise fluid flow control, which is tuned by a knob on the gun and by trigger pressure.
A 2.0-millimeter multipurpose nozzle is provided, with 1.5- and 2.5-millimeter options available. There's a 650-watt motor and 13 feet of hose that stores neatly within the unit, as does the power cable. The high-quality spray gun sits on top when not in use, and there's a convenient carry handle. While more expensive than many rivals, the Earlex HVLP Spray Station offers consistent performance, which makes it easier to achieve a high standard of finish.
FAQs About HVLP Spray Guns
The information provided so far has included details to increase the understanding of the HVLP technology and real-world examples of the best HVLP spray gun for different tasks. However, it's a complex subject and you may still have questions. The following are answers to some of those questions that crop up frequently.
HVLP stands for high volume, low pressure, hence an HVLP spray gun can move a lot of material quickly. Different models run off a pump, turbine, or compressor.
Conventional spray guns use higher pressure and require a dedicated compressor. They are less efficient than HVLPs, so they can waste more material.
An airless spray gun uses a piston to create high pressure. They can be very fast, but fluid control can be difficult. They are OK for spraying a wall, but not for spraying details like window frames.
Many HVLP spray guns can spray polyurethanes, but it does depend on the model. It's important to check the capabilities before buying. If it has a 1.8-millimeter nozzle or larger, it should be OK. Smaller nozzles would struggle with the viscosity, though the polyurethane could be thinned if necessary.
Professional HVLP spray guns like those found in auto body shops need a separate compressor. Some DIY models come with their own turbine. Small electric models have a built-in pump.
Always wear safety glasses and respiratory protection. A good-quality half mask has much better filtration than simple disposable paper masks. It's a good idea to wear lightweight nitrile gloves and some form of ear protection, especially if you're going to be spraying for an extended period. Never point the spray gun at people or animals.