About 10 years ago, Caitlin Cartwright lived in rural Namibia while working for the Peace Corps as a teacher in southern Africa. During the rainy season, flooding in the area would create ponds where children would sometimes play and swim.
One day, Kaino, an elementary student in Cartwright's homeroom, was playing in a pond with her friends, but she got too deep, couldn't swim and drowned. Later that night, as Cartwright went to sleep thinking about the tragedy, she had a dream with an image of Kaino's eyes peering above the water. The image stuck with Cartwright, and it appears again and again in the Detroit artist's new body of work, which will be on display beginning Saturday, June 5, as part of a duo show with Gavin Benjamin at Brandt-Roberts Galleries in the Short North. (The gallery will also host an opening reception from 1-7 p.m.)
"I was thinking specifically about that really thin line between happiness and tragedy," Cartwright said by phone. "With this young woman, she was having a fun day playing, and then, all of a sudden, just like that, everything is gone."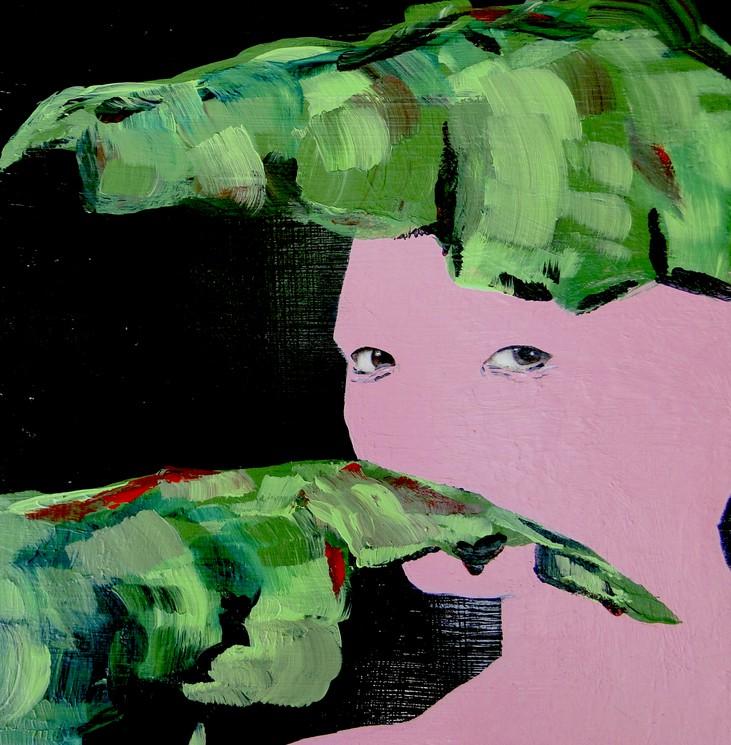 In Cartwright's arresting paintings, the solid-color faces of her figures are blank other than piercing pairs of eyes, which the artist incorporates as a collage element. "I love fashion magazines for this. It's perfect because all of the headshots that are used in advertisements for makeup or hair are the right size," she said. "I tear out all of those and keep them in a folder. … I have a folder full of just eyes."
Cartwright also uses water imagery in this new series because of the way it illustrates the tension between tragedy and frivolity. "You hear accounts of people drowning, and people often don't get rescued because onlookers can't tell if they're playing or they're really in trouble," she said. "I love nothing more than going to the ocean. It's such a spiritual experience for some people. It's so relaxing. It's life-giving. But at the same time, there's so much tragedy that happens on oceans. There's drownings, there's flooding."
In most of Cartwright's work, it's up to the viewer whether a scene evokes danger or whimsy. In "Beneath the Surface," gold-leaf birds hovering above the water could be part of a peaceful beach scene or an indicator of something sinister below. In "Capsized," floating marigolds and tropical green leaves surround two female figures in the water with a darkened city skyline in the background. "That one I thought was the darkest. I was like, 'Oh, man. This one is really intense.' And then when my boyfriend saw it, he was like, 'Oh, my gosh. This is so cute,'" she said. "If you're looking at someone in the water, what's your interpretation? Are you seeing something that's harrowing or are you seeing joy?"
In "Capsized" and another piece titled "Migration," Cartwright also explores how water shapes the lives of people from different countries. "I was thinking about that big migration and refugee movement from northern Africa into southern Europe. That journey, it's really harrowing, and I couldn't get it out of my head," she said. "You would see images of people vacationing on the beach in Greece or southern Italy, and all of a sudden a boat carrying refugees would arrive. Just seeing those two worlds collide like that — complete leisure, having fun, and then these other people who are totally shell-shocked."
Cartwright made most of this work during the pandemic, which proved to be a fruitful time creatively as the artist translated external upheaval and internal anxieties onto wooden boards with acrylic paint, latex house paint and paper. Just like the water, the pandemic exposed the fragility of life in ways both big and mundane. The virus led to a massive loss of life and widespread grief, but it also altered everyday routines practically overnight.
"Our plans and dreams can change. We can have everything set up, and then the pandemic hits and all of those get wiped away," she said. "I'm looking at that really, really thin line of where one [thing] can turn to another, or where it may look like it might, but it doesn't — all of those scenarios are in this body of work," she said. "My hope was that by looking at [the pieces], the viewer would have a lot of room to think about it."