Manufactured by Accsys Technologies, Accoya is one of the most advanced wood products on the market today. Through a process called acetylation, Accoya is manufactured using wood modification technology to create a superior quality product with outstanding levels of performance, stability, and durability. All Accoya wood is sustainably sourced and the finished result is a non-toxic product offering the same aesthetic appeal of tropical hardwoods.
Accoya wood is a brilliant material for windows and doors as it offers improved thermal insulation in comparison with commonly used wood species and is more durable and dimensionally stable than the best tropical hardwoods. As the Accoya is so stable it means coatings last longer and therefore requires less maintenance, it is perfect for transparent, translucent or opaque coatings. Accoya wood windows shrink and swell less so they open and close freely all year round. Accoya wood is FSC certified and C2C Gold sustainability certified and through independent testing to be shown as carbon negative when made as windows.
FEATURES
1. Durability
Cellulose is a major structural ingredient of wood but it is also a major food source for several different insects and decay fungi. Rot causes wood to degrade – particularly when it is used outdoors and exposed to moisture – limiting its service life. Thanks to the acetylation technology pioneered by Accsys Technologies, Accoya wood offers you an environmentally compatible, durable wood that can be used with confidence in outdoor applications and will last for at least 50 years above ground or 25 years in-ground or freshwater contact.
Natural durability is known to be a variable and inconsistent property. The properties of every batch of Accoya wood on the other hand, are analyzed by standard scientific measurements after modification, enabling its durability to at least match and even exceed the performance of nature's most durable species.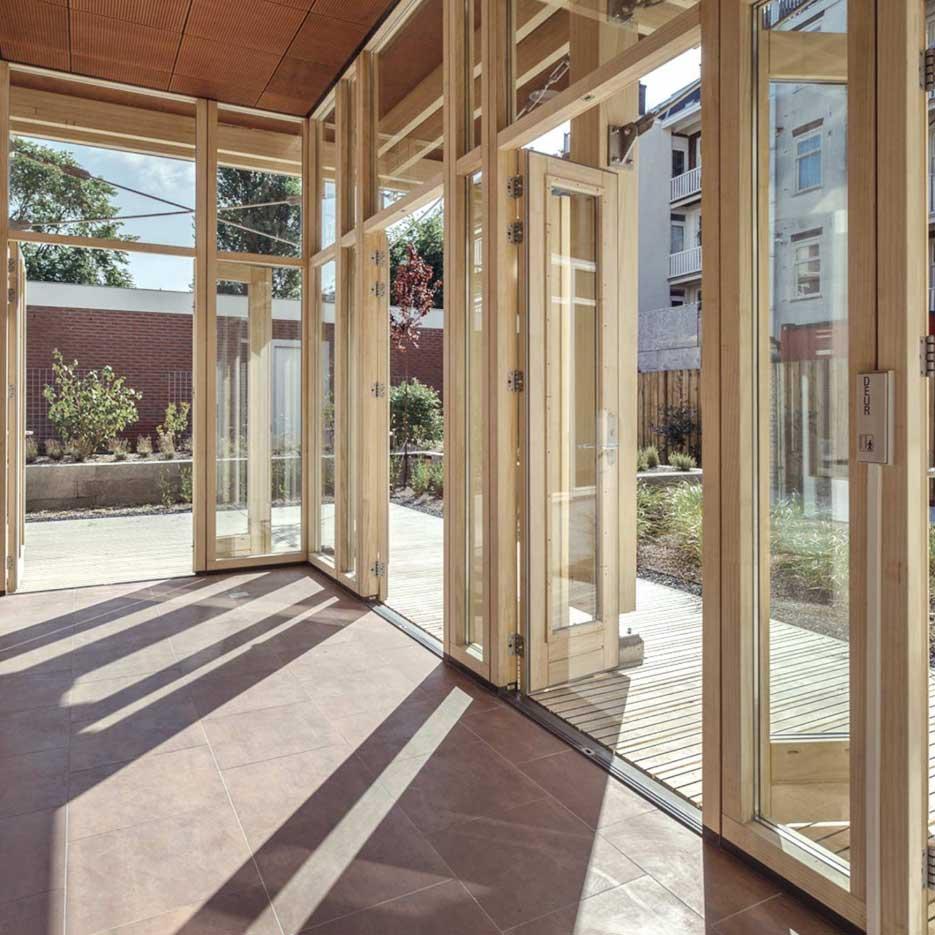 2. Dimensional Stability
Dimensional stability can be defined as the degree to which a material maintains its original dimensions when subjected to environmental changes. With many materials, temperature and humidity are critical factors. In the case of wood, swelling in damp or wet conditions and shrinkage in dry, hot conditions can have unwelcome implications; structures may become unstable.Accoya wood's superior dimensional stability matches or exceeds all the best species in the world, including Teak, Sapele, Iroko and Western Red Cedar in both radial and tangential directions (thickness and width). This means that it has minimal swell and shrinkage and may be confidently used in applications where it will encounter varying moisture conditions – even in freshwater immersion. Accoya´s acetylated wood has been tested over prolonged periods in all types of weathering conditions – above ground, below ground, and in freshwater – and has been proven to withstand even the toughest and most challenging of environments.
3. CoatingsAccoya® wood's superior coatings performance is primarily due to its outstanding dimensional and UV stability. This effectively means that major coating systems can be used on Accoya® with significantly improved performance.
Dimensionally stable wood improves coatings life as paints and other film-forming coatings are not subjected to severe stretch and shrink cycles. In the end, the result is decreased maintenance frequency, resulting in:
Accoya wood has superior resistance to UV degradation, with extensive tests demonstrating that the natural beauty of the wood lasts longer in even the severest exposed conditions. UV resistance of wood improves the life of any coating by providing a sound coating substrate. It also allows for a wider range of feasible color options. Accoya works well with all known coatings systems.
4. Quality and ease of use
Wood is a natural material and each piece is unique. This is partly what makes it so aesthetically pleasing and yet it can be a source of frustration and uncertainty when looking for guaranteed performance quality. However, with Accoya wood, you can be sure of its consistent quality, durability, and dimensional stability.
SUSTAINABILITY Accoya® wood for the FutureBy significantly enhancing the durability and dimensional stability of fast-growing and abundantly available certified wood species, Accoya wood provides compelling environmental advantages over slow-growing hardwoods, woods treated with toxic chemicals and non-renewable carbon-intensive materials such as plastics, metals, and concrete:
Learn more about Accoya Wood:Accoya - Brand FilmBuilding Science - What is Accoya wood?Building Science: The Durability of Accoya woodBuilding Science: Innovation in WoodThe making of an Accoya® sink - Wood Design Factory