ABHA NARAIN LAMBAH ASSOCIATES
Mumbai
Recent Projects: The new Durbar Hall and Secretariat buildings at Raj Bhavan, sections of the Willingdon Sports Club, the restoration of the Maharashtra State Police Headquarters—all in Mumbai; Lal Bagh Palace in Indore.
Sustainability in Action: "The restoration and adaptive reuse of historic or existing buildings is sustainable not only for preserving history, but it also offers lessons in energy efficiency."
anlassociates.com
ABHIMANYU DALAL ARCHITECTS
New Delhi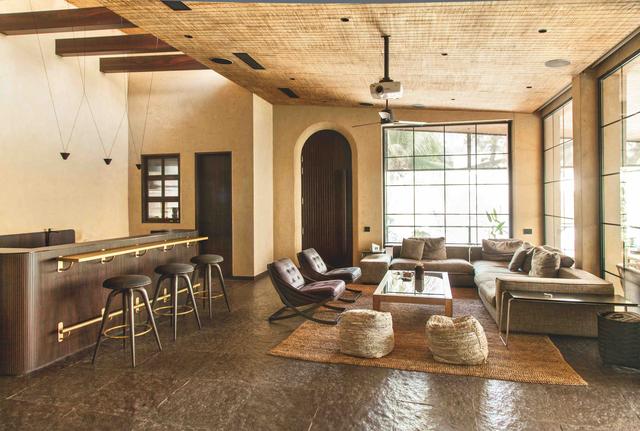 Recent Projects: Residences and farmhouses in New Delhi, Raipur and Kolkata; restoration of Mayo College, Ajmer; a collaboration with sculptor Ayesha Singh for Shrine Empire Gallery, Delhi.
Craft Initiatives: Stonework and Indo-Saracenic detailing in the Mayo College buildings using local materials, and Kashmiri pinjra kari wooden screens, created in collaboration with Amrita Guha of Untitled Design Consultants, for a residential project.
ABIN DESIGN STUDIO
Abin Chaudhuri | Kolkata
Project in Focus: A two-bedroom weekend retreat set within a guava orchard on the outskirts of Kolkata, Macha (below) is elevated nine feet above the ground to provide uninterrupted views all around.
Sustainability in Action: "We incorporate contextual solutions to make our projects as sustainable as possible, taking cues from historic buildings and reinterpreting indigenous techniques through a modern lens."
abindesignstudio.com
ABM ARCHITECTS
Alfaz and Aahana Miller | Mumbai
Sourcing Haunts: "On my last trip to Goa, someone recommended visiting Sotohaus, a furniture and lighting store near Candolim; it is now one of my favourites," says Miller.
Favourite Space: Charles and Ray Eames's studio in the Pacific Palisades neighbourhood of Los Angeles, designed by the pair, and seen in the documentary Eames: The Architect and the Painter.abmarchitects.com
ABRAHAM JOHN ARCHITECTS
Abraham John and Alan Abraham | Mumbai
Recent Projects: An outdoor restaurant in New York; a chalet in Switzerland; residences in Hyderabad, Jodhpur, Raipur, Goa, and Himachal Pradesh.