Red Line Frozen Treats seems like it was made especially with kids in mind. This southside Indy frozen yogurt shop not only has more than a dozen different flavors of self-serve frozen yogurt, but it also has the coolest decor: there's a subway car inside the dining room!
Located in Greenwood, Red Line gets its name from the Chicago Transit Authority's busiest rail line in Chicago: the Red Line, which is part of the Chicago "L" system. From the minute you walk into this frozen yogurt shop, you'll feel like you've stepped into one of the rail cars along the Red Line. You'll see a subway train car that lines one whole wall, complete with lights, signs, and simulated windows and doors. Photos of the Chicago skyline decorate the walls. A miniature subway train chugs along on a train track that winds its way above your head. All of this combines to transport you to a subway station in the Windy City.
Related Page | Little Foodies: Local Food to Try with your Kids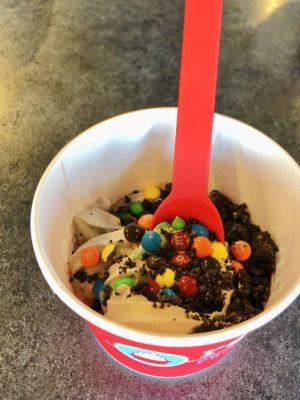 With 20 rotating, self-serve frozen yogurt flavors a day, you might have a hard time deciding on exactly what you want. But Red Line offers samples for you to taste to help you make up your mind.
Then choose from 50-plus different toppings, including cereals, candy, fruit, syrups and more. From fresh-cut fruit to your favorite candy to classic sauces that add the perfect finishing touch, you can handcraft a frozen dessert that is distinctively your own.
And if you're in the mood for something savory, Chicago's Pizza, Red Line Frozen Treats' sister restaurant, is located right next door. Just step through the subway-station hallway that connects the two, and you're right there.
Location: 5920 E. Stop 11 Rd., Indianapolis
Hours: Sunday-Thursday, 11 a.m.-9 p.m.; Friday & Saturday, 11 a.m.-10 p.m.
Website: facebook.com/RedLineFrozenTreatsIndy