Published:02 October 2015
Suzuki displays two slightly mad concepts at Tokyo 2015+6 View all SuzukiReviews
► Mighty Deck is a mini pickup concept► Air Triser is a futuristic camper van ► Both on display at the 2015 Tokyo show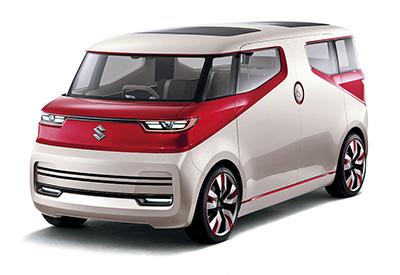 Japan has a long tradition of endearingly bewildering car names. Who could fail to love the Mazda Bongo Friendee, Nissan Cedric or Honda That's, to name but a few? Prepare to add to that illustrious roster the Suzuki Mighty Deck and Air Triser, making their respective debuts at the 2015 Tokyo motor show.
Suzuki Mighty Deck
Substitute 'mighty' for 'small', as this is perhaps the tiniest, cutest pickup truck you'll see this year. Suzuki describes the Mighty Deck as a 'fun-oriented minicar', with a retractable canvas roof section and repositionable load deck, which can be raised and lowered electrically.
With a tiny sub-1.0-litre engine and titchy dimensions, officially it's a 'Kei' class car – just like our Caterham 160 long-termer.
Suzuki Air Triser
Like a camper van rendered in Google Sketchup, the hip-to-be-square Air Triser is surely about as cool as a minibus can be. Inside the push-me-pull-you body there's an Allegro-style quartic steering wheel, laminate wood flooring straight out of Wickes, and three rows of seats. The latter can fold, slide, be turned round to face each other in 'relaxation mode', or form a U-shape sofa in 'lounge mode.' That enormous B-pillar that separates the front and rear side windows houses a tall display screen, on which you can beam media content from your smartphone. Who needs side visibility when you've got YouTube?
Click here for more from the Tokyo motor show.