Photo: depositphotos.com
A custom deck offers a comfortable outdoor space for sunny days, and designing your deck is the first step toward your own personal backyard oasis. To streamline the process and ensure you don't skip any steps, consider using deck design software.
The best deck design software programs are user-friendly and comprehensive. They help create a detailed deck layout and get you ready to build. Design your dream deck with one of the best deck design software options listed below.
Photo: depositphotos.com
What to Consider When Choosing the Best Deck Design Software
With a variety of options to choose from, it can be tough to narrow down the best deck design software for each individual's backyard setup. Luckily, there are plenty of free options, trial periods, and comprehensive paid programs available. When choosing deck design software, consider its cost, modeling options, device compatibility, and usability.
Deck design software is available for free or at a range of price points. The ideal pick will depend on the user's budget and needs.
As is the case with many products, paid deck design software often has a wider range of features and tools. These programs may be more reliable and functional than free versions. Most paid options go beyond deck design to offer landscape or even home design features. But for one-time users, they may not be worth the cost. Some paid software options offer a free trial, so the user can test them out and see if they add value over the free versions.
Many free deck design software programs have a wide suite of tools and features, often more than enough for the average DIYer to create a simple custom design. Keep in mind that free tools come at a different cost. Most free programs market their products or services to users. They may advertise their products within the planner, limit available options (by only showing their products and building materials, for example), or require an email sign-up to use the software.
Deck design software comes with 2D or 3D modeling options. 2D drafts display the length, width, and height of a layout, whereas 3D models display length, width, height, and depth.
A 2D layout gives you the bare bones of deck planning; you'll end up with a straightforward blueprint of deck dimensions. 3D modeling takes it a step further and adds a rendering aspect to the model. Most 3D modeling software allows users to view the model from a range of angles. Some 3D deck models even allow you to add example home siding and furniture for a better idea of what the deck will look like in real life.
Many of the best deck design software programs allow users to toggle between 2D and 3D options.
Deck design programs are available on a range of devices, including desktops, laptops, tablets, and smartphones. Before downloading a deck design software program or app, it's best to check the system requirements to see if the program is compatible. Different programs may be optimized for Mac or PC desktops or for iOS or Android devices.
Online programs don't require download or installation, which makes them a nearly universal option. These browser-enabled design options excel at ease of use. Some editions work across platforms, so the user can view a design across multiple devices. Additional plug-ins offer added features, such as login and cloud-storage options, so the user can save a design and access it later, even from a different device.
Some design programs are easier to use than others, depending on their intended audience. Professional-grade software works well for designers and architects. While these programs may seem appealing for their range of features, they may prove too complicated to use for amateurs and DIYers. Their bevy of customizable features means a steeper learning curve, so these picks aren't ideal for a first-time designer.
When designing a deck, most users will likely prefer software built for the average person. Beginner-friendly options have a short learning curve; they include options like premade plans, drag-and-drop functions, and easy-to-decipher controls on a simple interface. Some options even create a convenient deck-building plan with printable layouts, material lists, and cut lists.
Our Top Picks
A user-friendly deck design software makes it easy to create a detailed custom deck design. A blueprint in hand brings a user one step closer to a dream deck. The following picks are among the best deck design software options for their usability and wide range of features.
1Photo: timbertech.com Check Latest Price
Compatible with desktop browsers and some tablet browsers, this free deck design software from TimberTech by AZEK is an accessible option rich in features. With a free online account, users can create a custom deck, save the design for later, download a materials list, and share deck designs with friends, family, and contractors. Its range of features covers all the basic deck-planning steps, from first concept to building prep.
Users may choose from and modify a range of free deck templates or create a custom deck from scratch. Options for 2D, 3D, and a presentation view make it easy to visualize the end result. This user-friendly interface was built with homeowners in mind. Clear graphics and detailed 3D renderings give an idea of what the finished deck will look like.
2Photo: ideaspectrum.com Check Latest Price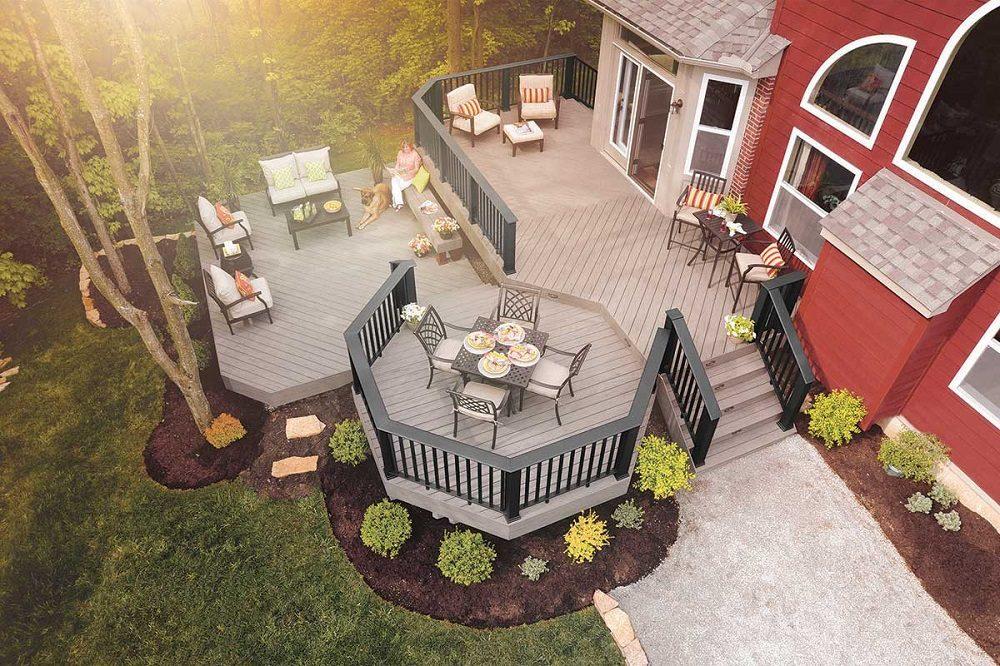 For one up-front cost, DIY deck engineers can use this desktop software for deck planning and a range of future projects. Unlike subscription programs, Idea Spectrum's Realtime Landscaping programs have no month-to-month fee and allow for installation on two computers at a time. Created for landscape design, this Windows-compatible program helps users plan a range of garden and structural designs.
Plus, Pro, and Architect versions each come at a different price and include different features. The Realtime Landscaping Plus edition will suit most first-time deck planners. It allows users to create 3D single and multistory deck plans, as well as landscape, shed, carport, pool, and patio designs.
3Photo: sketchup.com Check Latest Price
Integrated desktop and browser versions make SketchUp Pro a convenient pick for serious designers. This 3D modeling software creates simple to advanced products in stunning detail. The program goes far beyond just deck design and provides a range of features, including the option to create an entire outdoor space, landscape a new garden, or design an outdoor kitchen.
As for deck design, the program offers 2D and 3D views and a variety of realistic features to add to the design, such as lighting effects and a large library of outdoor objects.
SketchUp Pro also integrates with a variety of platforms. The desktop and web versions include unlimited cloud storage to store and share projects from anywhere. Its VR (virtual reality) modeling functions on a range of VR headsets. A free trial gives users a feel for this comprehensive software before they sign up for the monthly subscription.
4Photo: autodesk.com Check Latest Price
AutoCAD design software takes 2D and 3D modeling to a professional level. This comprehensive paid software is a top pick of architects, engineers, and construction professionals, and it goes far beyond deck designing. It offers a wide range of design features, including specialized architecture and 3D-mapping tool sets to streamline the process. Compatible with both Windows and Mac systems, AutoCAD allows users access through the web or mobile app.
The subscription price makes AutoCAD a better pick for those who plan to take advantage of its professional-grade tools. AutoCAD costs more than other options and comes with a steeper learning curve. A free trial allows DIYers to give the program a try.
5Photo: punchsoftware.com Check Latest Price
Punch! Landscape Design Software brings a range of desktop programs for landscaping design to both Windows and Mac computers. Each of their software options from "Essentials" to "Architectural Series" has deck-designing capabilities for a range of budgets and needs. The paid desktop program, suitable for beginners and seasoned designers alike, comes at a one-time cost.
This software helps with both landscaping and deck design. Amateurs can take advantage of its drag-and-drop features to create 2D or 3D plans for decks, pools, fences, pathways, and landscapes.
6Photo: decks.com Check Latest Price
Browser-enabled deck designers provide the most user-friendly options. Decks.com requires only a web browser and an internet connection—no downloads and no fees. Although in-browser designers have fewer features than desktop programs, decks.com includes all the necessary features to plan out a custom deck, including both 2D and 3D modeling. Just create a free account and start planning.
Made for first-time and novice designers, the program employs an easy-to-use interface. Users may choose from over 100 free deck plans or design their own with easy drag-and-drop controls. The website also provides an array of instructional articles and cost calculators to help with buying and building.
7Photo: trex.com Check Latest Price
The Trex AR Visualizer Mobile App brings deck building inspiration to a smartphone. Compatible with iOS devices, this free app offers basic design features on mobile to create a custom deck from anywhere.
Note: Trex, a decking materials company, created this app, meaning it offers only Trex decking and railing options. It works well for those who plan to use the brand. If not, the 3D renderings can still help DIYers imagine a new deck.
The app allows users to view Trex's entire decking portfolio, build basic shapes, calculate square footage of a design, and experiment with different deck colors and railings. The program also offers in-app ordering of samples and a store locator.
8Photo: deckdesigner.lowes.com Check Latest Price
Lowe's free and easy in-browser deck designer makes a great choice for novice designers. Like many browser programs, Lowe's website offers users access from desktop and mobile devices. Users can choose from a range of sample templates or take the option to draw their own deck from scratch. The program indicates whether the necessary materials are in stock at the nearest Lowe's.
Lowe's beginner-friendly interface includes drawing and drag-and-drop tools. The 2D, 3D, and presentation viewing options give a good idea of what the deck will look like once it's built. Users may also create an account to save designs for later. Sharing and product list options also make it easy to collaborate with others and source building materials.
9Photo: smartdraw.com Check Latest Price
SmartDraw's powerful web-based drawing software helps designers from DIYers to professionals create a variety of 2D graphics. Professionals, including contractors and architects, use the subscription-based program to create everything from infographics to detailed deck designs.
The online floor-plan creator, with its user-friendly interface, offers seamless deck planning. Users can customize an existing template or create a plan from scratch. This section offers many floor-plan options, including landscape designs, garden plans, and a range of indoor floor plans.
With collaboration in mind, SmartDraw integrates with a number of online tools like Microsoft Office programs and Google Workspace apps for easy design sharing.
10Photo: bighammer.com Check Latest Price
Home Depot's Do-It-Yourself Deck Designer website provides an approachable resource for novice designers. Users simply download the free Windows-compatible software and run it on an internet-connected desktop computer.
In this easy-to-use program, users choose from professionally designed templates or create custom layouts from scratch. The Home Visualization option allows users to see the completed 3D deck design superimposed on an uploaded image of their home. The program also offers to create a printable list of all the necessary items, down to every nut and bolt.
FAQs About Deck Design Software
A custom deck project may overwhelm even the most confident DIYer. A user-friendly deck design program helps builders clear that first hurdle. These programs help get the planning out of the way, so you can build and then stain or paint your new deck. Read on for some frequently asked questions about using deck-designing software.
An easy way to build a deck layout and design is with deck design software. Beginner-friendly programs allow for playing around with dimensions and drag-and-drop features to create a usable deck layout—no architect required.
No, an architect is not a necessity to design a custom deck. Ambitious DIYers can take on the project of planning and building a new deck themselves. However, those who want to consult with a professional can consider hiring an architect for the job.
No, there are many free and paid 3D deck design programs that are suitable for beginners. These programs have a user-friendly interface that makes them accessible to average homeowners and professional designers alike.