It's great to have an outdoor space at home, which you can use for various purposes. You can choose to do many things with your outdoor space, including laying down a lawn, installing a pool, or even setting up an area for playing sports, such as basketball or tennis. For some people, their outdoor space gives them an excellent opportunity to increase their living space. It's a good way to design your home for entertaining, allowing you to use both your indoor and outdoor spaces for cooking, eating, and socializing.
Sometimes your indoor space and outdoor space can feel a little too disconnected for this purpose, though. You have to be in either one or the other when what you really want is to be able to float between the two without shutting yourself off from either one. If you want a space that flows better and feels more coherent, you can create an indoor-outdoor space that works for you.
Attach a Deck or Patio to Your House
An outdoor living space can take many forms, but you will usually want to have an area carved out that you can use for outdoor living. You might leave the rest of your backyard for other purposes, such as growing a lawn or planting a garden. But part of the space should be used for a patio, deck, or something similar if you want to create an outdoor living space. While a patio or deck could technically go anywhere, attaching it to the back or side of your house is often the best option. It will help your indoor space to flow directly into your outdoor space, so you just have to step outside onto your deck or patio.
Open Up Your Doors
Having a door that goes right out into your outdoor space is useful, but what if you could open up this space even more? Being able to completely open up the space to create one indoor-outdoor space will give you a better flow and coherency. There are several ways you might do this by opening up your doors. Instead of having a single door that goes outside, consider a set of double French doors or bifold doors. You can speak to a window and glazing specialist like the experts here to plan what you want your doors to look like and where to install them. Glass doors will not only open up to create a flow between your indoor and outdoor spaces, but they will also connect these spaces when the doors are closed. You'll still be able to see outside or inside, making it seem as if it's one space.
You can even consider opening up the space more. Rather than a simple set of double doors, consider how you can use the whole wall (or a good portion of it) to open out the space even further. You can have movable wall panels or partitions that you can fold or slide out of the way to reveal your wider outdoor space.
Extend Your Living Space Outdoors
After installing a deck or patio, you can use it to bring your living space outdoors. It could be a continuation of your existing living space, allowing you to create a bigger kitchen or have your indoor kitchen flow into an outdoor dining room. You can use your outdoor space to create different types of living space, including seating areas and spaces for socializing. If you enjoy parties, you can use the space for a larger kitchen and entertaining space. Or you might use the space to create an outdoor living space for your family to enjoy. You can even install entertainment options such as sound systems and TVs.
Give Your Outdoor Space Purpose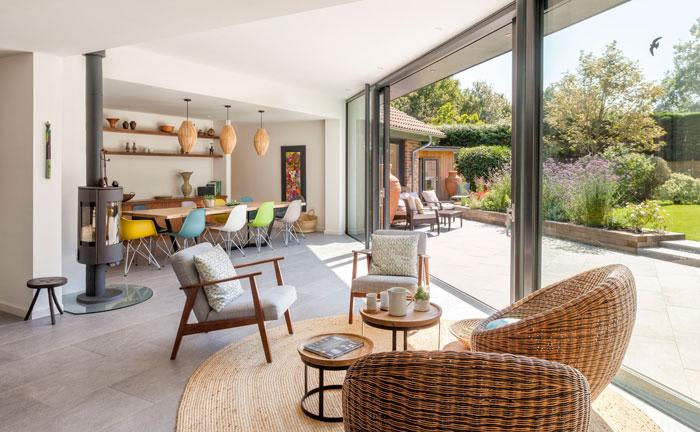 Your outdoor space can do several things at once. You don't have to pick one thing, and will likely want to use the space in a few different ways. However, it's a good idea to define what you're doing with the space and think carefully about what its purpose is. Instead of having a single space trying to do several things at once but not really achieving any of them, you can consider creating different zones. By zoning your space, you can make sure you have areas for cooking, dining, entertainment, or anything else, but each activity will have its own defined space.
Install Larger Windows
As an alternative (or in addition to) having glass doors, installing larger windows can be another way to join your indoor and outdoor spaces. It gives you a good view of your outdoor space from indoors, even if the door is currently closed. You could consider floor-to-ceiling windows if you want to get as much height as possible. Alternatively, you could think more horizontally and consider having windows along a longer part of the wall. For a clearer view, you can install single-pane windows, so there's no frame interrupting your view.
Match Your Style or Theme
A consistent style or theme between your indoor and outdoor spaces can help them to feel like the same space. There are several ways to match the two spaces, even if you have to consider different things for designing an indoor space and an outdoor space. For example, you can choose similar flooring, even if you can't use exactly the same type of floor outside as the one you use inside. You can select a similar color and texture so the styles match. You could also match the furniture that you use, as well as any accessories so that you can create the same overall look and feel both indoors and outdoors.
Weatherproof Your Outdoor Space
An outdoor space is best when you can use it as much as you like. If there's one thing that can stop you from being outdoors, it's the weather and temperature. Whether it's too hot, too cold, too windy, or too wet, you can feel forced to stay inside. But if you prepare your outdoor space properly, you can make sure it's set up for use in different conditions. One of the best things you can do is make sure you have some cover over your outdoor space. It will be useful both in sunny weather when you want to create some shade and if it's raining or snowing, when you want to stay dry.
You can even weatherproof your outdoor space by making it into a space that you can close off. It could be like a garden room or conservatory, which you can open out if the weather is good but close off if it's not so good. With movable walls or partitions, and even a retractable roof, you could easily decide whether you want to truly be outdoors or whether you want to technically be inside.
Create Privacy
If you open up your indoor space into your outdoor space, you don't want your neighbors or anyone walking past to be able to look right in. To avoid issues of privacy, you can take steps to make sure you have a private space that only people you allow to can experience. There are various ways you might create privacy, including by putting up fencing or perhaps using trees and other plants to make a more private space. A cover over your backyard can stop people from seeing in from above. You can also do things to soundproof your outdoor space to prevent sound from leaking in or out.
An indoor-outdoor space can give you more living space and help you to use your outdoor space more often.
comments