Do the photos do this product justice? Was there anything you were surprised to see IRL?
What surprised me was how much it truly demands attention. This is no small piece. The lounge chair itself is massive and requires a wide berth, not to mention an ottoman that is large enough to be a seat in its own right, which explains why it works so well in sprawling, minimalistic spaces (and why owners of those spaces just have to have one).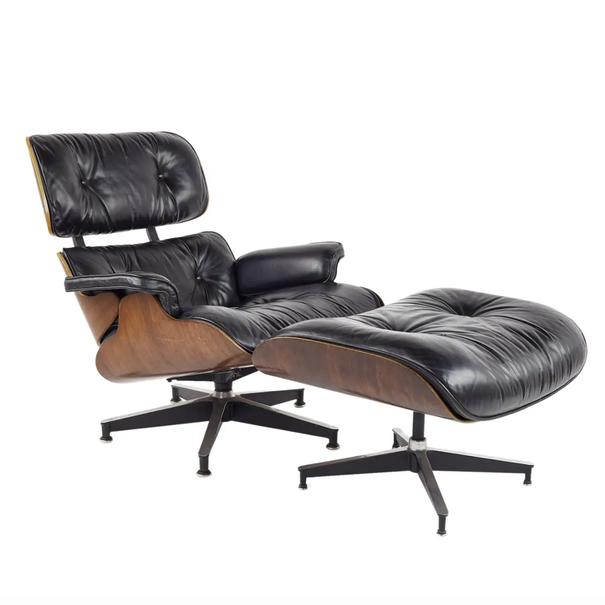 How much does it cost? Are there payment plans available?
I have to interrupt this reverie to get real with you because comfort like this? It's not cheap. It starts at $5,995, to be precise. From day one, the Eameses designed the lounge and ottoman for a luxury market, and the level of craftsmanship and quality materials involved is hard to argue with. Luckily, Herman Miller does offer financing options for those of us design nerds on a budget, which is especially great when you consider how many tempting knockoffs there are on the market. Trust me: The last thing you want to do is overpay for a chair that's got the looks but not the goods.
Where can you shop it?
The Eames lounge chair has been manufactured by the Herman Miller furniture company since the famed furniture makers acquired the technology from the Eameses in the late 1940s. In fact, Herman Miller still partners with the Eames Office—now overseen by a team that includes Charles and Ray's grandchildren—on all updates or changes to the original designs, though not much has been tweaked since the lounge chair debuted in 1956.
Outside of Herman Miller and Vitra (​​who is the sole authorized manufacturer of Eames products for Europe and the Middle East), prospective buyers can turn to authorized Herman Miller retailers like Design Within Reach and the MoMA Design Store, or try their luck on 1stdibs, Craigslist, and even Instagram—if you like a good chase. "I've known people that have found them in like a Goodwill," says Amy, who frequently finds herself, and the rest of the Herman Miller team, fielding through requests from chair owners to verify if they've got the real thing. Amy recommends studying up on the chair before you buy secondhand to recognize the copycats. "Familiarize yourself with both the specific and minute design details so that when you're looking at something that's not authentic, you know," she says. For reference, an authentic Eames chair will have a small sticker on its underside clad with Herman Miller's logo and an Eames signature.