"I'm not interested in seeing something I've seen before," Lucy Harris's client told her. "I live in a town where a lot of people are designers themselves. A lot of them are my friends, and a lot of them are on Instagram." A mother of three teens, the owner was talking about a new scheme for the Westchester County, New York, home she and her husband purchased: a sweeping French Normandy–style house built (and stylistically mired) in the early aughts, an era of ballooning Roman shades, wall-to-wall carpet, and beige walls.
Harris honored the request. " Our take was, let's find them really interesting pieces from somebody who had a very strong vision," says the designer, who worked with architecture firm Alisberg Parker on the remodel. "I don't do a lot of custom because I feel that there are so many incredible pieces being designed and made."
BEFORE
Courtesy of Lucy HarrisCourtesy of Lucy Harris
Take the living room's bleached oak–and–Cordova limestone coffee table crafted in Austin, Texas, by Yucca Stuff. Or the graphic wallpaper in the children's study by SoCal's Drop It Modern that looks like a game of pick-up-sticks. "It's fun and playful but sophisticated," says Harris. "It's not a baby kind of print." The home's traditional crown molding and millwork were updated, using fresh paint and wallcoverings, to match the contemporary mood.
There was just one architectural catch: rooms that often felt too big, so Harris filled them with voluminous furniture. In the 30' × 21' living room with 10'6" ceilings, a modular serpentine sofa by Edra for Minotti anchors two distinct sitting areas. "I love that couch to death," says the client. "It's sort of sleek, and it's Italian. Every time I sit on it, I treasure it."
---
Living Room
(Above) "They wanted a variety of interesting materials and textures, and with some drama," says designer Lucy Harris of her client's ask for their Westchester, New York, home.
Paint: White Dove, Benjamin Moore. Sofa: Edra for Minotti. Armchairs: Suite NY. Sconces: Apparatus. Coffee table: Yucca Stuff. Bench: StudioTwentySeven. Pillows: Eskayel. Art: Andrew Zimmerman (back wall, white and black pieces). Sculpture: 19th-century bronze Buddha from Thailand, client's own.
READ MCKENDREE
---
Foyer
Read McKendree
Rounded pieces, a rug by Crosby Street Studios and a Matter table, echo the curve of the stairs. Vase: Eric Roinestad, The Future Perfect. Chair: Matthew Day Jackson, The Future Perfect. Art: Fareen Butt.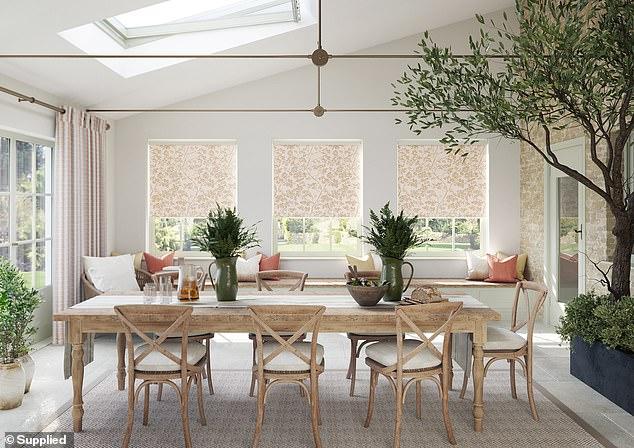 ---
Upstairs Hallway
Read McKendree
---
Mudroom
Read McKendree
Runner: Crosby Street Studios. Chandelier: McKenzie and Keim. Cushion fabric: Holland and Sherry. Copper Tray: Michael Verheyden. Ceramic pieces on island: vessels by Jonathan Cross; vase by Floris Wubben from The Future Perfect.
---
Kitchen
Read McKendree
"We chose Danby marble from Vermont because it had a lot of interesting movement in it and this sort of more intense gray veining," Harris says.
Pendants: Brendan Ravenhill Studio. Stools: Gubi, Design Public Group. Faucet: California Faucets. Cooktop and wall ovens: Thermador.
---
Butler's Pantry
Read McKendree
Stools: Cappellini. Rug: Breukelen Berber. Tray: The Lacquer Company. Pendant: Roll and Hill. Small artwork on the right: Paolo Arao. Large art: Ho Sook Kang.
---
Dining Room
Read McKendree
Table: custom, Dylan Design Co. Chairs: Mod Shop. Mirror: Yucca Studio. Sconces: Trueing. Chandelier: Bec Brittain. Vase: Reinaldo Sanguino Desperolado, from The Future Perfect. Runner: custom, Lucy Harris. Trays: Hawkins New York. Art: Chung Wah.
---
Breakfast Room
Read McKendree
To design this featherlight, nearly 43"-wide pendant for Moooi, Dutch designer Bertjan Pot coiled epoxy-dipped fiberglass around a large balloon—and then popped it.
Table: RH. Chairs: Jens Risom for Knoll. Runner: Crosby Street Studios. Art: Untitled #1 (The Parson's Tale) by Rick Shaefer, Sears-Peyton Gallery.
---
Powder Room
Read McKendree
Decorative painting: Caroline Lizarraga. Sconces: Pelle. Rug: Breukelen Berber.
---
Family Room
Read McKendree
Chandelier: Design Within Reach. Sofa: DDC/Minotti. Pillows: Hawkins New York (mohair); Sandra Jordan (alpaca). Coffee table: custom, Dylan Design Co. Vase: Morgan Peck. Side table: Luca Erba from The Future Perfect. Wood bowl: Michael VerheydenArt: Christopher Martin.
---
Common Room
Read McKendree
A dedicated space for doing homework.
Wallpaper: Bang Dem Sticks, Drop It Modern. Sofa: Crate & Barrel. Rug: Floors Beautiful. Coffee table: Hive. Pendants: FLOS. Desk: custom. Stools: West Elm, in Maharam fabric.Desk lamp:Design Within Reach. Art: Betty Merken.
---
Office
Read McKendree
Ceramic stools by Reinaldo Sanguino for The Future Perfect lend a hand-hewn quality to the whole room. Wallpaper: Florence, Schumacher. Chandelier: West Elm. Desk lamp: Oluce. Art: Makoto Fujimara.
---
Primary Bedroom
Read McKendree
"The brass stools are like jewelry," the designer says, "like the earrings that you put on to complete your outfit."
Stools: ASH NYC. Chandelier: Allied Maker. Bed: Ralph Lauren Home. Art: Reinaldo Sanguino, The Future Perfect (above bed); Karin Schaefer (above credenza). Credenza: Mod Shop. Wallcovering: Don ghia. Carpet: Floors Beautiful.
---
Daughter's Room
Read McKendree
A hazy blue paint, Eternity by Benjamin Moore, matches the dark end of the ombré in Aurora in Mist wallpaper by Calico. Chandelier: Moooi. Bed: Ligne Roset. Throw blanket: ALT for Living. Art: Ho Sook Kang.
---
Bathroom
Read McKendree
"It's serene and calming, a respite from wherever you are in life," Harris says.
Tile: Marble America. Side table: Floris Wubben, The Future Perfect. Art: Mitch Paster. Fixtures: Kohler.
---
Billiards Room
Read McKendree
"If you're a designer in New York, Blatt Billiards is where you get your pool table," Harris says. "They make the best of the best." Pendants: Apparatus. Walls: walnut. Art: Windchill Pearl (Red and Green) by Andrew Zimmerman, Sears-Peyton Gallery. Coffee table: custom, Olivr Studio.
---
Follow House Beautiful on Instagram.