Taipei, March 9 (CNA) Most of Taiwan felt a tremor caused by a magnitude 5.6 earthquake located just off the coast of Taitung County at 8:22 p.m. Wednesday, according to the Central Weather Bureau.
The epicenter of the temblor was located at sea, 62.3 kilometers north-northeast of the Taitung County government complex, at a depth of 34.5 km, according to the bureau.
The earthquake's highest intensity, which gauges the actual effect of a temblor, was recorded in Taitung and Hualien counties, where the quake measured 4 -- classified as "moderate" -- on Taiwan's 7-tier intensity scale, representing the swaying of buildings and heavy furniture moving, according to the bureau.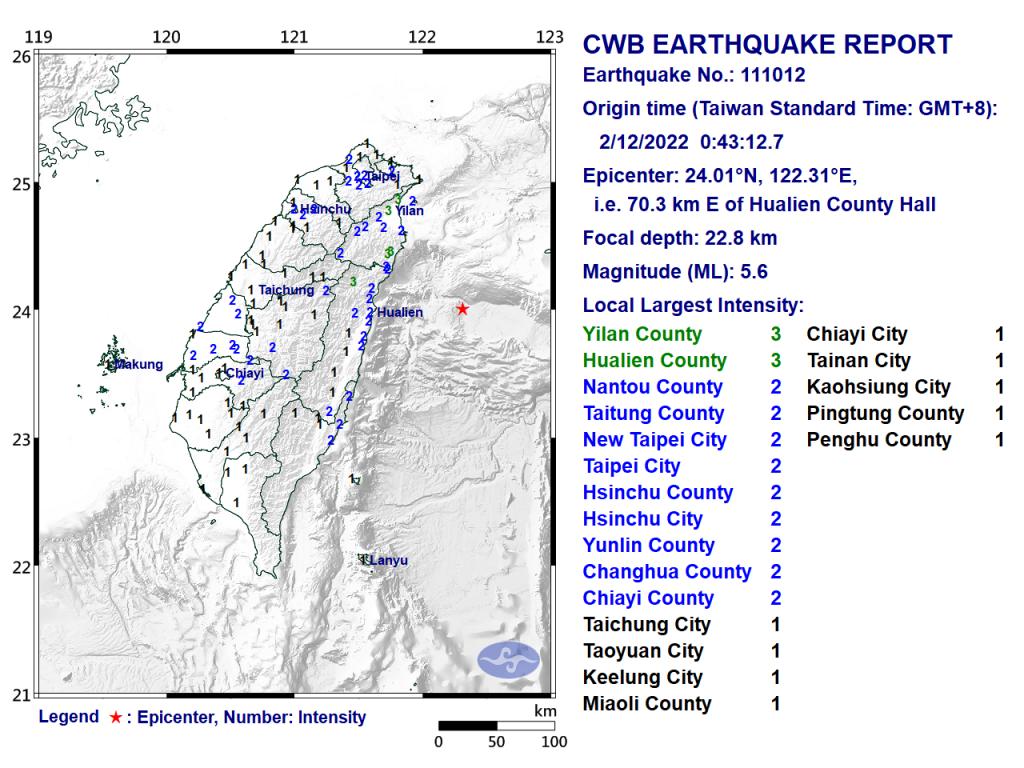 The quake also measured an intensity of 3 in several areas in central and southern Taiwan, including Nantou County, Yunlin County, Chiayi County, Taichung, Tainan, and Kaohsiung, the bureau said.
An intensity of 2 was registered in Chiayi City and the counties of Yilan, Hsinchu, Miaoli, Changhua and Pingtung, and 1 in Hsinchu City, as well as in New Taipei and Taoyuan, according to the bureau.
There were no immediate reports of damage or injuries.
(By Kay Liu)
Enditem/AW