When Tione Trice opened his design shop Of the Cloth last summer, he sold the vintage ceramics, West African carved-wood furniture, and handwoven baskets in the Fort Greene pop-up faster than he had anticipated. "I had to clean out my cupboards and my storage units and everything in order to keep it going," Trice says. It's not unusual for him to sell pieces he or his family once used and cherished; he wants to share his collection with as many people as he can. Once he realizes he doesn't use a bowl as often as he once did, or if a vessel starts to occupy progressively less prominent places in his mother's home, he knows it's time to release it so it can become a beloved part of someone else's space.
Trice, who grew up around Atlanta, has been collecting vintage design and antiques since he was 15. He started with small things he could easily tuck away in his room — textiles, bud vases, bowls — in order to disguise how much he'd been accumulating. His grandmother Gail bought him books on design and antiques and encouraged him to develop his eye. After working at the Salvation Army and becoming a regular at the Scott Antique Market, Trice got to know many of the collectors and dealers in the area. It's these long-term relationships that have helped him to continually update his own collection and the shop's.
Photos: Casey Steffans.Photos: Casey Steffans.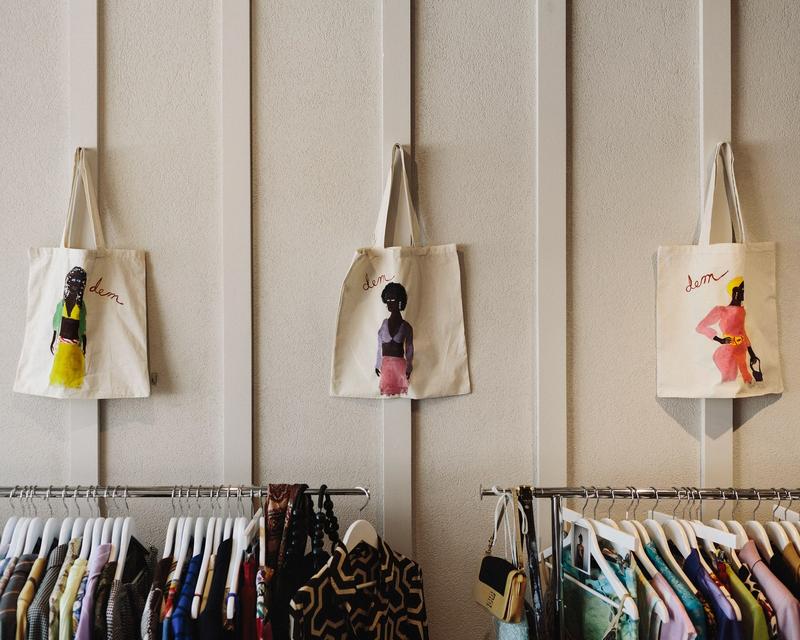 While he's vastly expanded what he collects, he's still drawn to objects that are made to be used. Everything in the shop began its life as something functional like terra-cotta pitchers, a hand-turned wood chair, or an embroidered quilt. "These things are beautiful, but it's not about that," he says. "It's about making someone feel good in a space and allowing someone to take whatever practices I've implemented in my life and try to see if they work in theirs."
In November, Trice moved Of the Cloth to a storefront in Crown Heights, a raw space filled with a mixture of antique items he's sourced from collectors, contemporary works he's made in collaboration with friends (including the furniture-brand Studio Ture and ceramic artist Kristin Stain), and pieces he's decided to release from his own collection. This April, he's opening a second outpost of Of the Cloth in Rockefeller Center, joining a wave of shops like Beverly's and Côte à Coast that are part of its retail strategy to include more small, independent brands.
Photos: Casey Steffans.Photos: Casey Steffans.
Often, the pieces in Trice's shop come directly from the homes of his sources, who tend to obsessively collect very specific items like Chinese antiques or wicker furniture and set things aside for him. "Every time I visit them, it's like I'm Charlie first walking into the Chocolate Factory," Trice says. "Could you imagine walking into someone's home and it being like a museum every time?"
That's the feeling you get when you step inside Of the Cloth — you're not just walking into a shop, you're stepping into a space filled with hundreds of stories and items that represent a particular point of view. It's the opposite of seeing the same Italian-style sofa or Scandinavian chairs that seem to populate every apartment on Instagram and TikTok. As the business grows, what's most important to Trice is to keep building his collection and sharing stories about the pieces in it. "I didn't come from a family that archived much information," he says. "There were a lot of question marks around our identities, which happens a lot with Black families. It's been my objective to archive information in a beautiful way. I don't want the grandchildren to look through horrible books with photos. I want it to be, Oh, hold on, this textile that was placed on this chair in our family for 70 years has been in our family for 30 years longer than that."
Tags: