Sara Fenske Bahat and Heather Peterson forged their friendship 20 years ago, rearranging furniture in their small New York City apartments.
"After grad school, I moved to Manhattan for a job I didn't love and didn't stay with for long," said Mrs. Bahat, 45, "but I got this amazing friend out of it." Mrs. Peterson, 47, and Mrs. Bahat met at the advertising agency where they both worked. They bonded over a shared interest in home décor and spent weekends poring over design magazines, combing the Chelsea Flea market for cheap finds, painting walls and DIY-ing curbside freebies.
Eventually, life and love (both married and had children) took them away from New York—Mrs. Bahat to San Francisco, where she teaches at California College of the Arts, and Mrs. Peterson to her hometown of Minneapolis, where she started an interior-design business. They stayed in touch as well as they could, considering they were separated by 2,000 miles and busy raising children and building careers.
The friends found an opportunity to work together again in 2015 when Mrs. Bahat and her husband, a venture capitalist, purchased a 1909 free-standing Edwardian in the Noe Valley neighborhood of San Francisco for $4.1 million. The couple was deep into planning a renovation of their existing home when the property came on the market. At 4,500 square feet on 0.2 acre with a rare-for-the-neighborhood full driveway, side yard, and well-preserved period details, it offered the space their current house was lacking, said Mrs. Bahat.
Unfortunately, the entire main floor had originally been designed as an obstetrician's office, according to Mrs. Bahat. The space still had vestiges of the practice, including a long corridor with a series of what were probably once examination rooms and a large area with a dropped ceiling and fluorescent lights. The kitchen, living areas and bedrooms were all located on the second floor, where the doctor lived. It would need a major overhaul. But the property also included a 1,600-square-foot, three-bedroom, two-bathroom cottage in the back that Mrs. Bahat, her husband and two children, then ages 4 and 7, could live in during construction. Mrs. Bahat knew it would be a huge undertaking, so she called her old friend for a reality check before making an offer.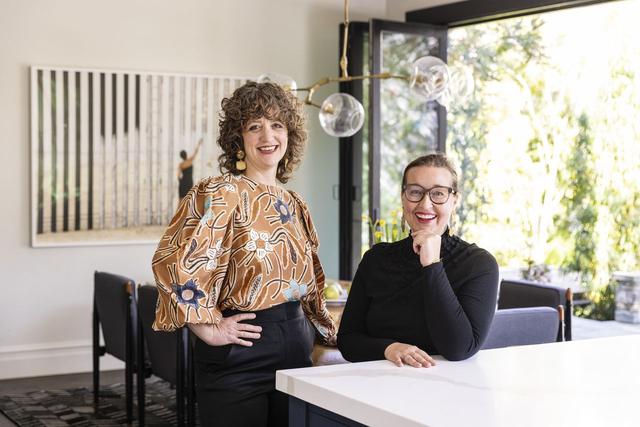 Mrs. Peterson said her jaw dropped when she saw the listing photos, especially the architectural features and blank-slate potential of the first floor. She told her friend to go for it. Then, to her surprise, Mrs. Bahat asked her to come on board as the interior designer working alongside architect Antje Paiz of Berkeley-based Raumfabrik architecture + interiors. "At the time, I'd never done anything on that scale," said Mrs. Peterson. But Mrs. Bahat was resolute. "Heather has an amazing eye. I knew she would push me in a way that felt safe."
The main level was reconfigured to open up the small rooms and create space for a kitchen and dining area with easy access to the yard. Moving the staircase from the front of the house to the back and topping it with a large skylight yielded a big impact, creating brighter, better-flowing spaces throughout. Upstairs, the old kitchen was converted into a guest bathroom. Mrs. Peterson used the home's original trims and finishes as inspiration and outfitted each room with the simplest versions of what might have been to keep the spirit of the 1909 home intact while incorporating a more casual, modern aesthetic to suit the family.
Mrs. Bahat is interim CEO at the Yerba Buena Center for the Arts and has a growing collection of contemporary art. So, it was essential to create space for her rotation of pieces. White walls were a logical choice. Then Mrs. Peterson warmed them up with furnishings and textiles in colors she knew her friend loves, including deep green, saddle brown, and tiny touches of hot pink (a "very Sara color," she said) to keep the rooms from feeling sterile.
On the second floor, the color story gets bolder, and nowhere is this more evident than in what Mrs. Bahat calls "the pajama lounge," a family room located near the home's four bedrooms. Previously the dining room, the space features the original coffered ceiling and an ornate built-in buffet. Now painted a deep teal, the room is a moody jewel box where the family's two children, now 11 and 13, like to hang out and host sleepovers, said Mrs. Bahat.
More: US$36 Million South African Reserve Has 40,000 Acres—Plus Lions and Rhinos
The project was, in many ways, a continuation of the friends' home décor adventures that began in New York, albeit with a bigger budget. But the spirit of the hunt was alive and well during the 18-month project. "Sara would go to high-end vintage stores where she was traveling and text me pictures of things," said Mrs. Peterson. "We were talking almost every day." The pair also took a weekend trip to Los Angeles to shop at RH, Nickey Kehoe, and Hollywood at Home, where Mrs. Peterson pitched a four-poster bed for the primary bedroom. They climbed into it to make sure it didn't feel claustrophobic.
The renovation, which came in at around $1.5 million, was completed in 2017. Since then, Mrs. Peterson has been an overnight guest on several occasions, giving her the chance to experience what it feels like to live in the house, something not many designers get to do. Better yet, both women say the project deepened their bond. Mrs. Bahat said, "It felt so easy, and I loved seeing my friend come into her own. I'm a mega-fan."